20 libros de lectura en inglés (nivel A2)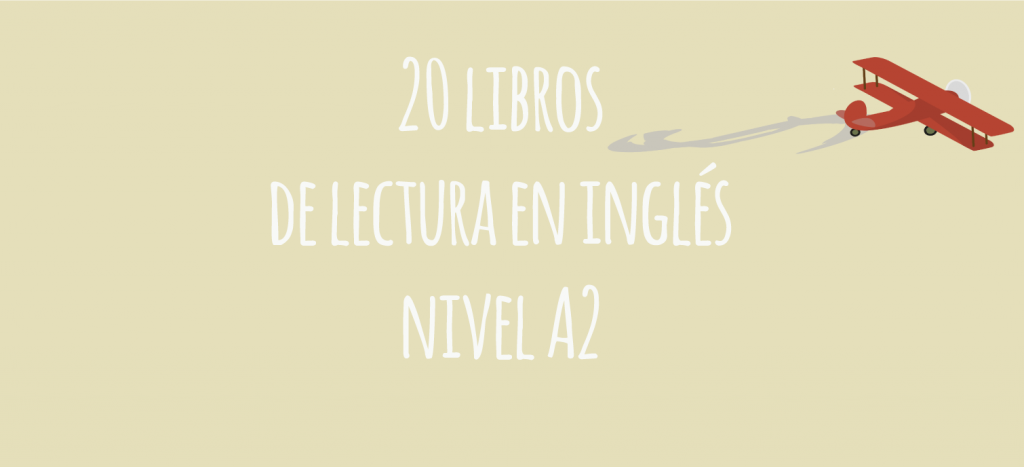 Llegamos a nuestro último capítulo de estas entregas de lecturas veraniegas en inglés en este caso un listado de 20 libros en inglés nivel A2.  En todo este recorrido os hemos traído títulos de diferentes temáticas: románticos, misterio, miedo, clásicos… Una cosa que os comentamos en el post anterior y os queremos recordar, es que muchas veces es posible encontrar un título adaptado para diferentes niveles.
Ahora os queremos hacer el recordatorio de cómo es recomendable leer libros en otro idioma para que realmente llegue a ser fructífera (aunque puede que un pelín más tediosa) la lectura.
1. Escoger correctamente un libro que sea de nuestro nivel.
2. Disponer de un lápiz, libreta y diccionario a mano.
3. Anotar toda palabra que desconozcamos para buscarla en el diccionario.
4. Realizar una segunda lectura en voz alta grabándonos.
5. Al finalizar, escuchar el audio para reconocer aquellos errores de speaking que cometemos.
Y sin más dilación, pasamos a enumeraros:

There has been a ghost in the house for three hundred years, and Lord Canterville's family have had enough of it. So Lord Canterville sells his grand old house to an American family. Mr Hiram B. Otis is happy to buy the house and the ghost – because of course Americans don't believe in ghosts. The Canterville ghost has great plans to frighten the life out of the Otis family. But Americans don't frighten easily – especially not two noisy little boys – and the poor ghost has a few surprises waiting for him.
When Wallace the inventor meets Wendolene in her wool shop, he falls in love with her at once. But why does her dog, Preston, hate Wallace's dog, Gromit? Then, after Wallace's new sheep-shaving and pullover-making machine falls into the wrong hands, things start to go very wrong. Can Gromit save Wallace from the danger of a 'close shave'?
What does a poor young woman do when she loses her boyfriend or wants to find one? What little lies do we tell to make ourselves look better in the eyes of those that we love? How can a friend save someone who is sure that they are going to die? What happens when someone's clever plans all go wrong? These sweetly surprising short stories – about both good times and bad – are sometimes sad, and sometimes funny. But all of them are sure to make you think.
Cedric Errol is seven years old. He lives with his mother in a little house in New York. They don't have much money, but mother and son are good friends. Cedric is a kind, friendly little boy, and everybody likes him. His father was English, but he is now dead, and Cedric and his mother are alone in the world. But one day a lawyer arrives from England with some very surprising news about Cedric's grandfather…
Sherlock Holmes is the greatest detective of them all. He sits in his room, and smokes his pipe, he listens, and watches, and thinks, he watches the door opening – and he knows what question the stranger will ask. In these three of his best stories, Holmes has three visitors to the famous flat in Baker Street – visitors who bring their troubles to the only man in the world who can help them.

Do you believe in ghosts? Jerry doesn't. He's a nineteen-year-old American, who just wants a good holiday with his friend, Brad. They are travelling round the north of England by bicycle. But strange things begin to happen in the small hotel where they are staying. First, Brad seems to think that he has been there before. And then a girl called Ellen appears . . . The first of these three original plays is set in the seventeenth century, and the other two take place in modern times. In each play, a ghost comes back from the dead to change the lives of living people.
What does the name 'Agatha Christie' mean? To many people, it means a book about a murder mystery – a 'whodunnit'. 'I'm reading an Agatha Christie,' people say. 'I'm not sure who the murderer is – I think it's . . .' But they are usually wrong, because it is not easy to guess the murderer's name before the end of the book. But who was Agatha Christie? What was she like? Was her life quiet and unexciting, or was it full of interest and adventure? Was there a mystery in her life, too?
Cathy Wilson is driving to Norfolk, to begin her new job with the Harvey family. She is going to look after the two young children, Tim and Susan. Cathy meets the children's father, and their grandmother, and their aunt. She meets Nick, the farmer who lives across the fields. But she doesn't meet Miranda, the children's mother, because Miranda is dead. She died two years ago, and Cathy cannot learn anything about her. Everybody remembers Miranda, but nobody wants to talk about her . . .
All they could hear was the wind, and the waves crashing on to the rocks. All they could see was the night. They could not see the ship, broken in two. They could not see the people holding on to the dark wet rock, slowly dying of cold. And they could not hear the cries for help – only the wind. How could they save the people on the rock? Was their wooden boat stronger than the iron ship? Were a man and his daughter stronger than the great waves that broke the ship in two? The Forfarshire was wrecked off the north-east coast of England in 1838. This is the true story of Grace Darling – a girl who became a famous heroine on that stormy night.
"We asked for a boy. Were there no boys at the orphanage?" When Matthew and Marilla decide to adopt a child to help them at their farm, Green Gables, they specifically ask for a boy. But when Matthew goes to Bright River Station to collect the child, he gets a shock. What do Matthew and Marilla decide to do? Do they keep the child? This child is certainly very different.

The year is 1386 and the first flowers of spring are here. A number of pilgrims are going to Canterbury to visit the tomb of Saint Thomas Becket, and they all tell stories on the way. Who should be the stronger in a marriage – the husband or the wife? And what happens when two men fall in love with the same woman? In these five stories from Geoffrey Chaucer's Canterbury Tales we find different answers to these questions from the Knight, the Wife of Bath, the Clerk of Oxford, the Merchant, and the Franklin.
When he was a boy, he was poor and hungry. When he was a young man, he was still poor and still hungry. He learnt how to steal horses, he learnt how to fight, he learnt how to live – outside the law. Australia in the 1870s was a hard, wild place. Rich people had land, poor people didn't. So the rich got richer, and the poor stayed poor. Some say Ned Kelly was a bad man. Some say he was a good man but the law was bad. This is the true story of Australia's most famous outlaw.
A companion piece of White Fang, The Call of the Wild is the story of Buck, who starts life as a domestic dog loyal to the ways of man, who is suddenly stolen sold to gold prospectors and a world that is entirely foreign to him. In this view – and hard – life, Buck's natural wild dog's instincts are awakened to the call of the wild.
Detective Flick Laine goes to Pine Crest, a ski resort in Colorado USA, to investigate the murder of Janine, a 23-year-old student of journalism. What was the big story Janine was working on before her death?
Tom Walsh had a lot to learn about life, he liked travelling, and he was in no hurry. He liked meeting people, anyone and everyone. He liked the two American girls on the train. They were nice and very friendly. They knew a lot of places. Tom thought they were fun. Tom certainly had a lot to learn about life. This is a collection of short stories about adventures on trains. Strange, wonderful, and frightening things can happen on trains – and all of them happen here.

There were six of them – three Katherines, two Annes, and a Jane. One of them was the King's wife for twenty-four years, another for only a year and a half. One died, two were divorced, and two were beheaded. It was a dangerous, uncertain life. After the King's death in 1547, his sixth wife finds a box of old letters – one from each of the first five wives. They are sad, angry, frightened letters. They tell the story of what it was like to be the wife of Henry VIII of England.
On the surface, Daisy Miller unfolds a simple story of a young American girl's willful yet innocent flirtation with a young Italian, and its unfortunate consequences. But throughout the narrative, James contrasts American customs and values with European manners and morals in a tale rich in psychological and social insight. A vivid portrayal of Americans abroad and a telling encounter between the values of the Old and New World, Daisy Miller is an ideal introduction to the work of one of America's greatest writers of fiction.
The much-loved children's story of a horse, Black Beauty. Black Beauty begins his life at a loving home. But when his owners have to sell him, his fortune changes. As Black Beauty moves from home to home and job to job, he often suffers bad treatment and living conditions. But Black Beauty still dreams of the happy life he had as a young foal.
It is hay-making time on the Wookey farm. Two brothers are building the haystack, but thinking about other things – about young women, and love. There are angry words, and then a fight between the brothers. But the work goes on, visitors come and go, and the long hot summer day slowly turns to evening. Then the sun goes down, covering the world with a carpet of darkness. From the hedges around the hayfield comes the rich, sweet smell of wild flowers, and the hay will make a fine, soft bed . . .
Allegra is an unusual name. It means 'happy' in Italian, but the little girl in this story is sometimes very sad. She is only five years old, but she tells Adrian, her new friend, that she is going to die soon. How does she know? And who is the other Allegra? The girl in a long white nightdress, who has golden hair and big blue eyes. The girl who comes only at night, and whose hands and face are cold, so cold . . .
Ya tenéis una completa recopilación de recomendaciones según vuestro nivel de inglés, para que podáis disfrutar de la lectura en otro idioma en este verano. Para finalizar, os dejamos los enlaces directos a los otros post, esperamos que os haya gustado esta completísima entrega, haciendo un total de 120 libros en inglés para los 6 niveles (del A1 al C2).
– 20 libros en inglés (nivel A1)
– 20 libros en inglés (nivel B2)
– 20 libros en inglés (nivel C2)
¡Esto es todo amigos! 🙂 Nos leemos la semana que viene, que tengáis un buen fin de semana.