20 libros de lectura en inglés (nivel B2)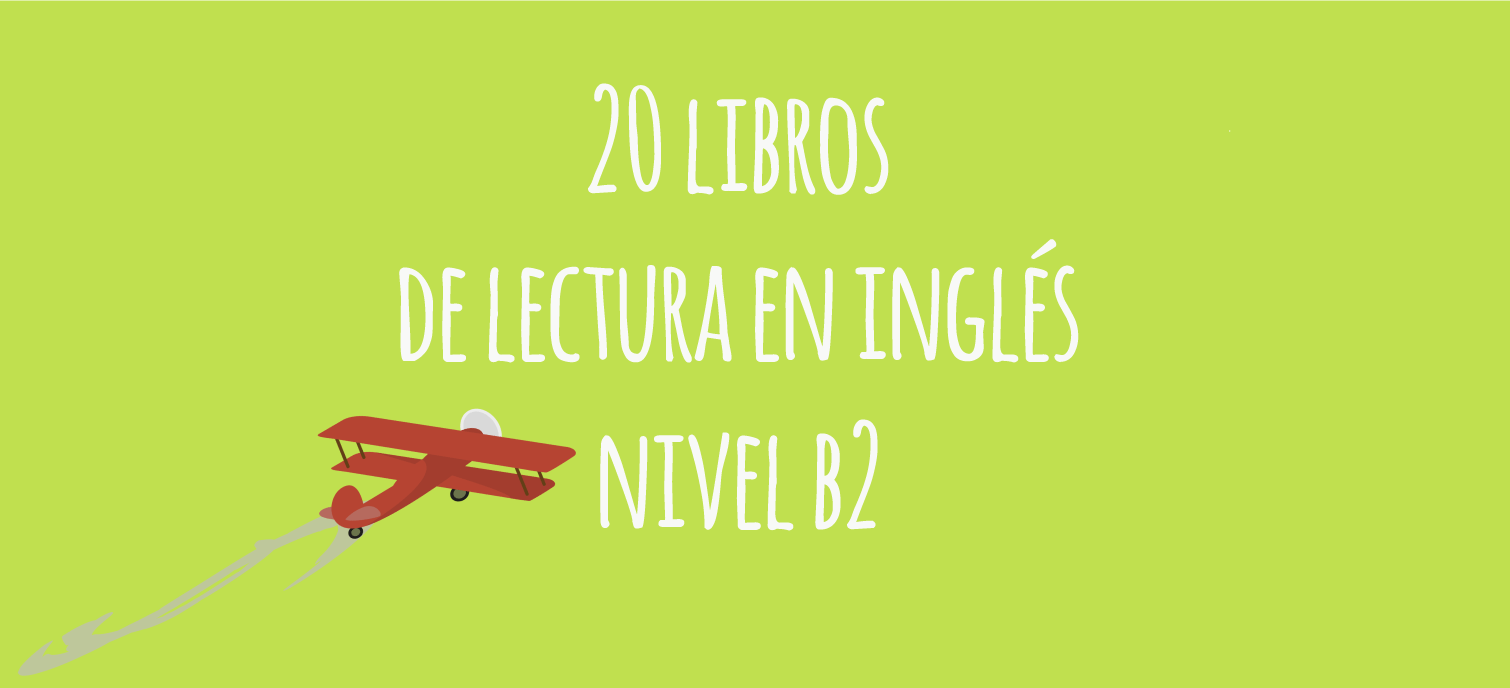 Buenas tardes a todos!
Una semana más venimos por aquí para traeros un post cargaditos de lectura veraniega para mejorar nuestro inglés en los tiempos de asueto que tenemos con el veranito; la semana pasada pudisteis leer un listado con los 20 libros en inglés para el nivel B1 . Esta vez, hemos escogido 20 títulos de novelas que encajarían en el nivel B2, esperamos que os gusten.
1. Animal Farm: Manor Farm is like any other English farm, expect for a drunken owner, Mr Jones, incompetent workers and oppressed animals. Fed up with the ignorance of their human masters, the animals rise up in rebellion and take over the farm. Led by intellectually superior pigs like Snowball and Napoleon, the animals how to take charge of their destiny and remove the inequities of their lives. But as time passes, the realize that things aren't happening quite as expected. Animal Farm is, one level, a simple story about barnyard animals. On a much deeper level, it is a savage political satire on corrupted ideals, misdirected revolutions and class conflict-themes as valid today as they were sixty years ago.
2. A Dangerous Fortune: In 1866, tragedy strikes the exclusive Windfield School when a young student drowns in a mysterious accident. His death and its aftermath initiate a spiraling circle of treachery that will span three decades and entwine many lives. From the exclusive men's clubs and brothels that cater to every dark desire of London's upper class to the dazzling ballrooms and mahogany-paneled suites of the manipulators of the world's wealth, one family is splintered by a shared legacy. But greed, fed by the shocking truth of a boy's death, must be stopped, or the dreams of a nation will die.
3. Harry Potter and the Sorcerer's Stone: Harry Potter has no idea how famous he is. That's because he's being raised by his miserable aunt and uncle who are terrified Harry will learn that he's really a wizard, just as his parents were. But everything changes when Harry is summoned to attend an infamous school for wizards, and he begins to discover some clues about his illustrious birthright. From the surprising way he is greeted by a lovable giant, to the unique curriculum and colorful faculty at his unusual school, Harry finds himself drawn deep inside a mystical world he never knew existed and closer to his own noble destiny.
4. The Hunger Game: In the ruins of a place once known as North America lies the nation of Panem, a shining Capitol surrounded by twelve outlying districts. Long ago the districts waged war on the Capitol and were defeated. As part of the surrender terms, each district agreed to send one boy and one girl to appear in an annual televised event called, "The Hunger Games," a fight to the death on live TV. Sixteen-year-old Katniss Everdeen, who lives alone with her mother and younger sister, regards it as a death sentence when she is forced to represent her district in the Games. The terrain, rules, and level of audience participation may change but one thing is constant: kill or be killed.
5. The Thirty-nine steps: The Thirty-Nine Steps is a famous adventure novel written by Scottish author John Buchan. The Thirty-Nine Steps, which has been adapted into multiple movies and a popular British television show, is the first book featuring Richard Hannay.

6. The Accidental Tourist: Macon Leary is a travel writer who hates both travel and anything out of the ordinary. He is grounded by loneliness and an unwillingness to compromise his creature comforts when he meets Muriel, a deliciously peculiar dog-obedience trainer who up-ends Macon's insular world–and thrusts him headlong into a remarkable engagement with life.
7. The Curious Incident of the dog in the night-time: Christopher John Francis Boone knows all the countries of the world and their capitals and every prime number up to 7,057. He relates well to animals but has no understanding of human emotions. He cannot stand to be touched. And he detests the color yellow. This improbable story of Christopher's quest to investigate the suspicious death of a neighborhood dog makes for one of the most captivating, unusual, and widely heralded novels in recent years.
8. The boy in the striped pyjama: Berlin, 1942: When Bruno returns home from school one day, he discovers that his belongings are being packed in crates. His father has received a promotion and the family must move to a new house far, far away, where there is no one to play with and nothing to do. A tall fence stretches as far as the eye can see and cuts him off from the strange people in the distance. But Bruno longs to be an explorer and decides that there must be more to this desolate new place than meets the eye. While exploring his new environment, he meets another boy whose life and circumstances are very different from his own, and their meeting results in a friendship that has devastating consequences.
9. A Tangled Web: Mayhem reigns and tables are turned in a year when everything feels topsy-turvy. One woman will lose her fiancé. Two enemies since childhood will inexplicably come together. And a couple mysteriously separated on their wedding night ten years before will find a second chance at love. Then comes the night when Aunt Becky's wishes will be revealed…and the family is in for the biggest surprise of all.
10. American Crime Story: John Escott 'Curtis Colt didn't kill that liquor store woman, and that's a fact. It's not right that he should have to ride the lightning – that's what prisoners call dying in the electric chair. Curtis doesn't belong in it, and I can prove it.' But can Curtis's girlfriend prove it? Murder has undoubtedly been done, an d if Curtis doesn't ride the lightning for it, then who will? These seven short stories, by well-known writers such as Dashiel Hammett, Patricia Highsmith, and Nancy Pickard, will keep you on the edge of your seat.


11. The Book of Blood: With the 1984 publication of Books of Blood, Clive Barker became an overnight literary sensation. He was hailed by Stephen King as "the future of horror," and won both the British and World Fantasy Awards. Now, with his numerous bestsellers, graphic novels, and hit movies like the Hellraiser films, Clive Barker has become an industry unto himself. But it all started here, with this tour de force collection that rivals the dark masterpieces of Edgar Allan Poe. Read him. And rediscover the true meaning of fear.
12. The Mayor of Casterbridge: A haunting study of guilt and lost love in Penguin Classics, Thomas Hardy's The Mayor of Casterbridge is edited with an introduction and notes by Keith Wilson. In a fit of drunken anger, Michael Henchard sells his wife and baby daughter for five guineas at a country fair. Over the course of the following years, he manages to establish himself as a respected and prosperous pillar of the community of Casterbridge, but behind his success there always lurk the shameful secret of his past and a personality prone to self-destructive pride and temper.
13. Anna Karerina: Considered by some to be the greatest novel ever written, Anna Karenina is Tolstoy's classic tale of love and adultery set against the backdrop of high society in Moscow and Saint Petersburg. A rich and complex masterpiece, the novel charts the disastrous course of a love affair between Anna, a beautiful married woman, and Count Vronsky, a wealthy army officer. Tolstoy seamlessly weaves together the lives of dozens of characters, and in doing so captures a breathtaking tapestry of late-nineteenth-century Russian society. As Matthew Arnold wrote in his celebrated essay on Tolstoy, "We are not to take Anna Karenina as a work of art; we are to take it as a piece of life."
14. Great Expectations: Great Expectations is Charles Dickens's thirteenth novel. It is his second novel, after David Copperfield, to be fully narrated in the first person. Great Expectations is a bildungsroman, or a coming-of-age novel, and it is a classic work of Victorian literature. It depicts the growth and personal development of an orphan named Pip.
15. The Gaveyard Book: In this Newbery Medal-winning novel, Bod is an unusual boy who inhabits an unusual place—he's the only living resident of a graveyard. Raised from infancy by the ghosts, werewolves, and other cemetery denizens, Bod has learned the antiquated customs of his guardians' time as well as their ghostly teachings—such as the ability to Fade so mere mortals cannot see him. Can a boy raised by ghosts face the wonders and terrors of the worlds of both the living and the dead? And then there are being such as ghouls that aren't really one thing or the other.
16. Ender's Game: In order to develop a secure defense against a hostile alien race's next attack, government agencies breed child geniuses and train them as soldiers. A brilliant young boy, Andrew "Ender" Wiggin lives with his kind but distant parents, his sadistic brother Peter, and the person he loves more than anyone else, his sister Valentine. Peter and Valentine were candidates for the soldier-training program but didn't make the cut–young Ender is the Wiggin drafted to the orbiting Battle School for rigorous military training.
17. Why didn't they ask Evan?: Was it a misstep that sent a handsome stranger plummeting to his death from a cliff? Or something more sinister? Fun-loving adventurers Bobby Jones and Frances Derwent's suspicions are certainly roused–espeically since the man's dying words were so peculiar: Why didn't the ask Evans?Bobby and Frances would love to know. Unfortunately, asking the wrong people has sent the amateur sleuths running for their lives–on a wild and deadly pursuit tod discover who Evans is, what it was he wasn't asked, and why the mysterious inquiry has put their own lives in mortal danger..
18. Gulliver's Travels: Regarded as the preeminent prose satirist in the English language, Jonathan Swift (1667–1745) intended this masterpiece, as he once wrote Alexander Pope, to "vex the world rather than divert it." Savagely ironic, it portrays man as foolish at best, and at worst, not much more than an ape. The direct and unadorned narrative describes four remarkable journies of ship's surgeon Lemuel Gulliver, among them, one to the land of Lilliput, where six-inch-high inhabitants bicker over trivialities; and another to Brobdingnag, a land where giants reduce man to insignificance.
19. Jane Eyre: Jane Eyre follows the emotions and experiences of its title character, including her growth to adulthood, and her love for Mr. Rochester, the byronic master of fictitious Thornfield Hall. In its internalisation of the action — the focus is on the gradual unfolding of Jane's moral and spiritual sensibility and all the events are coloured by a heightened intensity that was previously the domain of poetry — Jane Eyre revolutionised the art of fiction.
20. Moby Dick: Moby-Dick is the story of Captain Ahab's quest to avenge the whale that 'reaped' his leg. The quest is an obsession and the novel is a diabolical study of how a man becomes a fanatic. But it is also a hymn to democracy. Bent as the crew is on Ahab s appalling crusade, it is equally the image of a co-operative community at work: all hands dependent on all hands, each individual responsible for the security of each. Among the crew is Ishmael, the novel's narrator, ordinary sailor, and extraordinary reader. Digressive, allusive, vulgar, transcendent, the story Ishmael tells is above all an education: in the practice of whaling, in the art of writing.

¿Recordáis los pasos que os recomendamos en el anterior post, sobre cómo se deben de leer los libros en inglés? Si no es así, no os preocupéis que aquí os hago un breve resumen:
1. Escoger correctamente un libro que sea de nuestro nivel.
2. Disponer de un lápiz, libreta y diccionario a mano.
3. Anotar toda palabra que desconozcamos para buscarla en el diccionario.
4. Realizar una segunda lectura en voz alta grabándonos.
5. Al finalizar, escuchar el audio para reconocer aquellos errores de speaking que cometemos.
¿Sencillo verdad? Parece tedioso, pero de verdad que trabajando así el libro, vamos a mejorar nuestro vocabulario ampliándolo y mejoraremos el speaking.
¿Creéis que nos hemos dejado algún libro en el tintero?
¿Cuál recomendarías tú?