10 English acronyms you need to know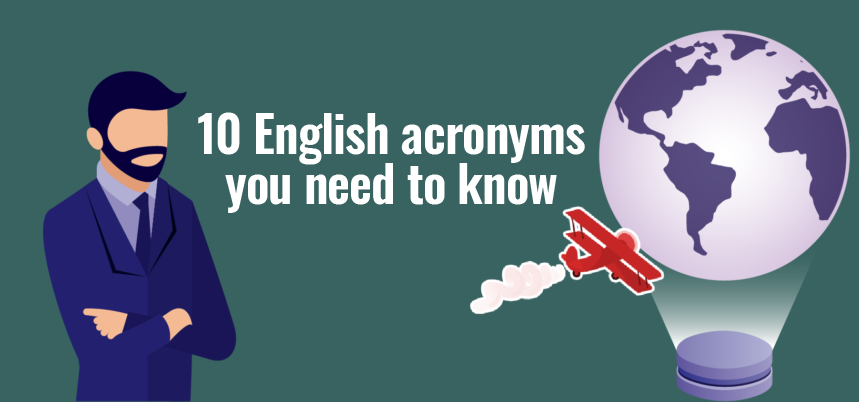 The English are very given to acronyms and abbreviations that they use frequently as communication tools.
In reality, this fashion has flooded all languages; although in the English language it is especially common. Either for mobile use, or as the content of an email, this way of writing has been imposed to save time, space, and agility.
Abbreviations and acronyms
While abbreviations are short words instead of limited ones that everyone understands, acronyms are often more complicated, because their meaning is not so obvious. The latter is created from the first letter of each of the words in a sentence, which are usually represented in capital letters, let's see that BTW means by the way.
The acronyms are very widespread in the commercial and industrial environment, in general, it is widely used in English, so students of this language and English speakers consider them essential. Using acronyms allows everyone to type faster. In this article we recommend the following:
AKA
Whose meaning is: 'Also Known As'. In Spanish: Also known as or an alias.
It is an acronym preferred by rappers, as well as superheroes.
Example:
Selina Kyle aka Catwoman.
(Selina Kyle también conocida como Catwoman).
BRB
Be Right Back could be said in almost any context, but this acronym is used in chatting between friends. That is, if you are talking with a friend and someone else requires your attention, you only have to use these three letters to tell him that in a second you will be with him: BRB.
WTB
What does it mean: 'Want To Buy'. I want to buy it.
It is used by women when they talk between friends to tell each other that they have seen something, an object that they liked and that they want to buy it.
Example:
Have you seen the new Versace collection for H&M ?. WTB (I want to buy it)
RSVP
This acronym is usually placed at the end of invitations to events, that is, to weddings, first communion, work meeting, and even a party. Like other English expressions and terms, it comes from the French "Répondez S'il Vous Plaîtz" and refers to a request to confirm attendance at an event.
JIC
This acronym means: "Just in Case". What does this acronym mean: Just In Case.
This is the English version of the Spanish expression "just in case" . It is very helpful to use a 'just in case' to get out of a positive or negative trance in certain situations.
Example: I take an empty suitcase JIC swept New York.
HAGD
The meaning of this acronym is: 'Have A Good Day . It is to say "Have a nice day. It is the way that wishing a good day has been imposed through a message application
Example: I'm running to work, HAGD.
KIT
Refers to: 'Keep In Touch'. (We are in contact).
With which you show interest in your interlocutor. It is the most cordial way to end a conversation that you want to continue in the following days. Example: Thank you very much for everything, KIT.
IMO
Who doesn't like to give their opinion in conversation? Well, this is one of the best ways to anticipate that you are going to give it: In My Opinion ("from my point of view") . The most educated tend to use IMHO (or In My Humble Opinion).
FOMO
It comes on purpose for those who deal with chicanery to justify that they don't fancy a plan, but then think it might be a good one and are going to miss it. That contradictory sensation is the FOMO —Fear Of Missing Out— that is, the "fear of missing something." It must be taken into account that it is an acronym and not an acronym, since it is read as it is written, instead of letter by letter.
DIY
Here we have a way not to depend on others to carry out a task, such as fixing an electronic device that you want to do yourself, instead of calling a professional or a know-it-all friend, being that way you prefer Do It Yourself. DIY (Do it yourself) which is the equivalent of our lifelong DIY or home remedy.
Do not forget…
Once you have familiarized yourself with acronyms and abbreviations, you should bear in mind that new abbreviations and acronyms are constantly emerging on the Internet. But the more familiar you are with these terms and the more you master the language, the easier it will be to decipher the new acronyms that arise and that you come across.
Do not hesitate to put them into practice since in addition to being updated with the slang of modern social networks it will allow you to get out of more than one trance that you do not want your security to seize, you will also achieve it without having to invest time just to your precious time. In addition, you can and should also share it with your friends through social networks, so you will avoid them being stunned when, for example, you express yourself JIC.