8 tips for learning basic German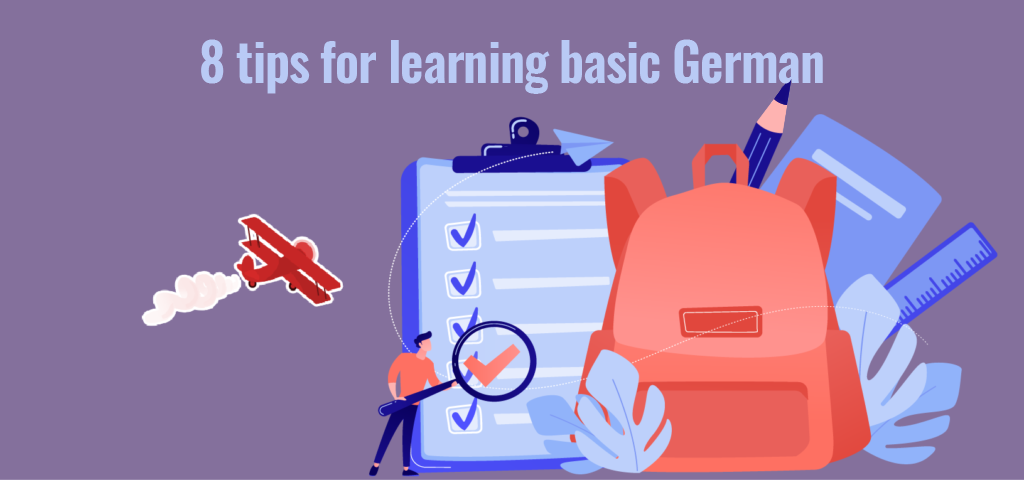 In this article, we offer you a series of recommendations that can be very valuable in your beginnings when learning this language.
Do not forget that German offers certain difficulties for a Spaniard. For this reason, we are going to clear the way for you through advice to extract the most possible benefits from your studies.
Grammatical gender
You may have heard that German words have to be learned with their gender. Indeed, from the beginning, you have to get used to this rule if we want to extract the desired objective. We will have to learn what to use: der for the masculine, die for the feminine and das for the neutral
You should also know that German contains a considerable amount of neutral words that its relationship with gender in Spanish is almost nil. On the other hand, we advise you to learn plurals, since there are many classes and it is difficult to place each word in one.
How to study the articles
Given its complexity, we advise you that the best thing you should do is try to learn the articles along with the names that they accompany. But at first you should not worry if you do not know one and therefore you cannot decline it. The time will come when after learning and using it so much, in practice it will come out without thinking.
Do not rush into practising
It may seem like wrong advice to tell you not to be in a hurry to practice, but German is not French, nor Italian for a Spaniard, because there are not so many similarities. You must therefore take your first steps in practice once you have learned the essentials to maintain a small conversation, that is, once you acquire a base, then you can launch yourself in search of conversation. 
Do not be focused on the exam
We must always keep in mind that a language, in this case, German, is learned to speak, exchange ideas with other native or non-native people who speak that language. Consequently, you shouldn't learn to get out of the way of exams. In a short time you will forget what you have learned.
How to improve my German
Regardless of studying the language, to understand and handle it fluently it is necessary to use all the tools that exist to help you, which are not few. For example: listen a lot, for this you have free videos, movies, you can read grammar books, the press, listen to the radio, etc. But you should always use the means that are adapted to your level because you already know that in a language like German, if you start with something very complex you will not understand or learn anything.
Let's start from the beginning
Once you have reached that minimum level to speak and you find yourself in a situation or in a context where you find Germans speaking, then do not despise your level because you can already say something in a conversation. You may think that your level is very low, but you have already learned enough to maintain the first and elementary conversations , you think that sometimes it has to be the first.
You can and should say something, such as introducing yourself in German, asking their names, referring to the fact that you are studying their language and that you would like to practice. As is logical after this explanation they will be ready to help you and when you do not know how to express something, or you make a mistake, they will correct you and teach you to say it properly. Germans, like any native of another country, will be proud that a foreigner wants to learn their language and they will help you with great pleasure. The point is that you let go of the dialogue.
The goal is to practice
Indeed, in these levels you can start with simple things such as introducing yourself, asking about places in the city, if you are in Germany, to go visit it, where you can eat typical German food, etc.
You can also ask them to ask you in German, to see if you understand them, and try to answer them, they will be aware to cordially rectify you.
Level by level
As is logical and you know, at each level you have to learn a series of words and sentences appropriate to your achievements in the language. There is a vocabulary and appropriate parts of grammar for each grade, which you should have already studied. That does not mean that on your own, at the same time, you are learning things that you think you will need and that you have not studied yet. These things are usually learned more quickly and this will help you gain speed and practice in your German conversations.
In conclusion
While you are in the first steps, do not risk much, do not start talking if you still do not have a minimum of vocabulary . But as soon as the little time passes in which you already think you could have a conversation, do not disdain it. As bad can the precipitation be as the opposite. Precipitation can disappoint you, because you come to believe that you don't know anything about anything and that German is very difficult. On the other hand, starting the dialogue in good time allows the Germans to give you due attention, and they will also correct you and help you learn.