Vocabulary in Spanish: the bedroom "la habitación"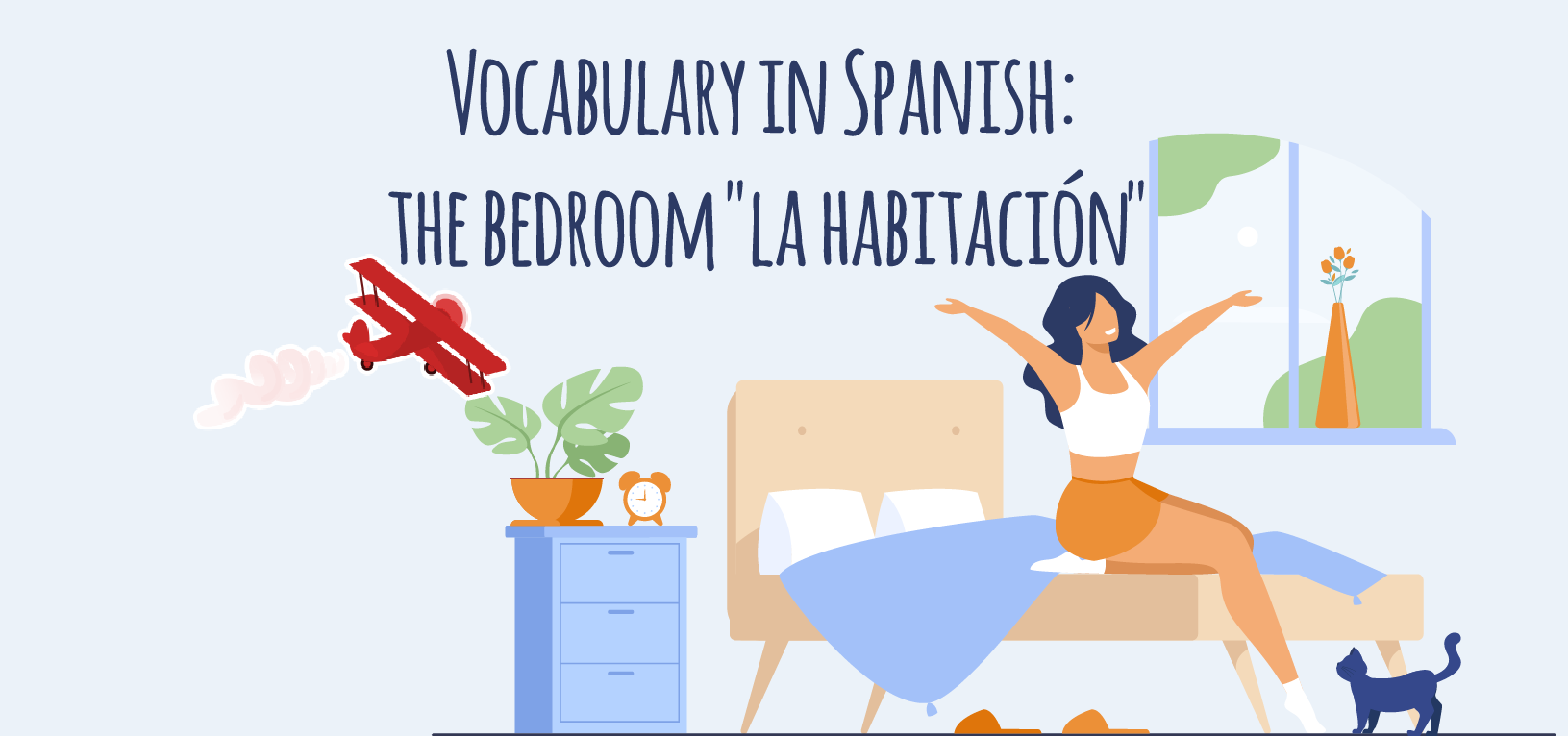 This post is also available in:

Español (Spanish)
Do you know what all the things in your room are called in Spanish?
INDEX OF CONTENTS
The bedroom – The bedroom
Actions or verbs related to the room
Idioms
The bedroom is one of the most important rooms in a house, in it we can find very different things, there are large, small, shared or bright, but in all there are certain furniture (furniture) as well as bedding (bedding or linen).
EL DORMITORIO – THE BEDROOM
Alarm clock / Reloj despertador.
Armchair / Butaca, sillón.
Air conditioner / Aire acondicionado.
Bed / Cama.
Bedding, linen / Ropa de cama.
Bedside table, nightstand / Mesita de noche.
Bed Base / Base de la cama.
Bedspread / Colcha, edredón cubrecama.
Blanket / Manta cobija, manta, frazada.
Bolster / Almohadón.
Blinds / Persianas.
Bedding / Ropa de cama.
Bunk beds / Literas.
Bookcase / Estantería.
Carpet / Alfombra.
Carpet floor / Piso alfombrado.
Chest of drawers / Cómoda.
Closet / Clóset, armario.
Coat hanger / Percha.
Comforter / Cobertor acolchado.
Curtains / Cortinas.
Chair / Silla.
Ceiling / Techo.
Desk / Escritorio.
Door / Puerta.
Duvet / Edredón.
Double bed / Cama de matrimonio.
Dressing table / Tocador.
Footboard / Pie de cama.
Floor / Piso.
Hanger / Percha.
Headboard / Cabecera de la cama.
Jewel-case / Joyero.
Lamp / Lámpara.
Lampshade / Pantalla de lámpara.
Liquid Soap / jabón líquido.
Light switch / Interruptor.
Mattress / Colchón.
Mirror / Espejo.
Night table / Mesa de noche.
Pillow / Almohada.
Pillowcase / Funda de almohada.
Plug / Enchufe.
Reading lamp / Lámpara mesilla de noche.
Rug / Alfombra.
Sheet / Sábana.
Single bed / Cama individual.
Socket / Enchufe.
Switch / Interruptor de la luz.
Stool / Taburete.
Shutters / Persianas.
Telephone / Teléfono.
Trunk / Baúl.
TV / Televisor.
Twin beds / Camas dobles.
Wardrobe / Armario.
Window / Ventana.
Wallpaper / Papel tapiz.
Wooden floor / Piso de madera.
Actions or verbs related to the room
Make the bed / Tender o hacer la cama.
Tidy up / Ordenar o asear.
Clean / Limpiar.
Fold / Doblar.
Close / Cerrar.
Open / Abrir.
Ventilate / Ventilar.
Change the sheets / Cambiar las sábanas.
Wake up / Despertarse.
Get up / Levantarse.
Sleep in / Dormir hasta tarde.
Sleep over / Dormir en casa de alguien.
Stay up / Quedarse despierto.
Sleep on it / Consultar con la almohada.
Doze off / Quedarse dormido.
Idioms
Armchair traveller / Alguien que lee mucho sobre viajes pero nunca lo ha hecho.
To get out of bed on the wrong side / Levantarse de la cama por el lado equivocado, sentirse enojado o molesto sin ninguna razón en particular.
Not a bed of roses / Considerar que una situación no ha sido fácil.
You've made your bed and you must lie on it / Aceptar los resultados de tus acciones.
To be in the chair / Estar a cargo, al mando.
Go out of the window / Desaparecer o dejar de tener efecto.
To lay something at somebody 's door / Culpar a alguien por algo.
Bring down the curtain on something / Terminar con algo.
Here is the list, I hope it is useful to you. What other furniture or elements do you have in your room? And most importantly, remember that you can download an audio magazine with which to review your knowledge of English.