Vocabulary in Spanish: the bathroom "el cuarto de baño"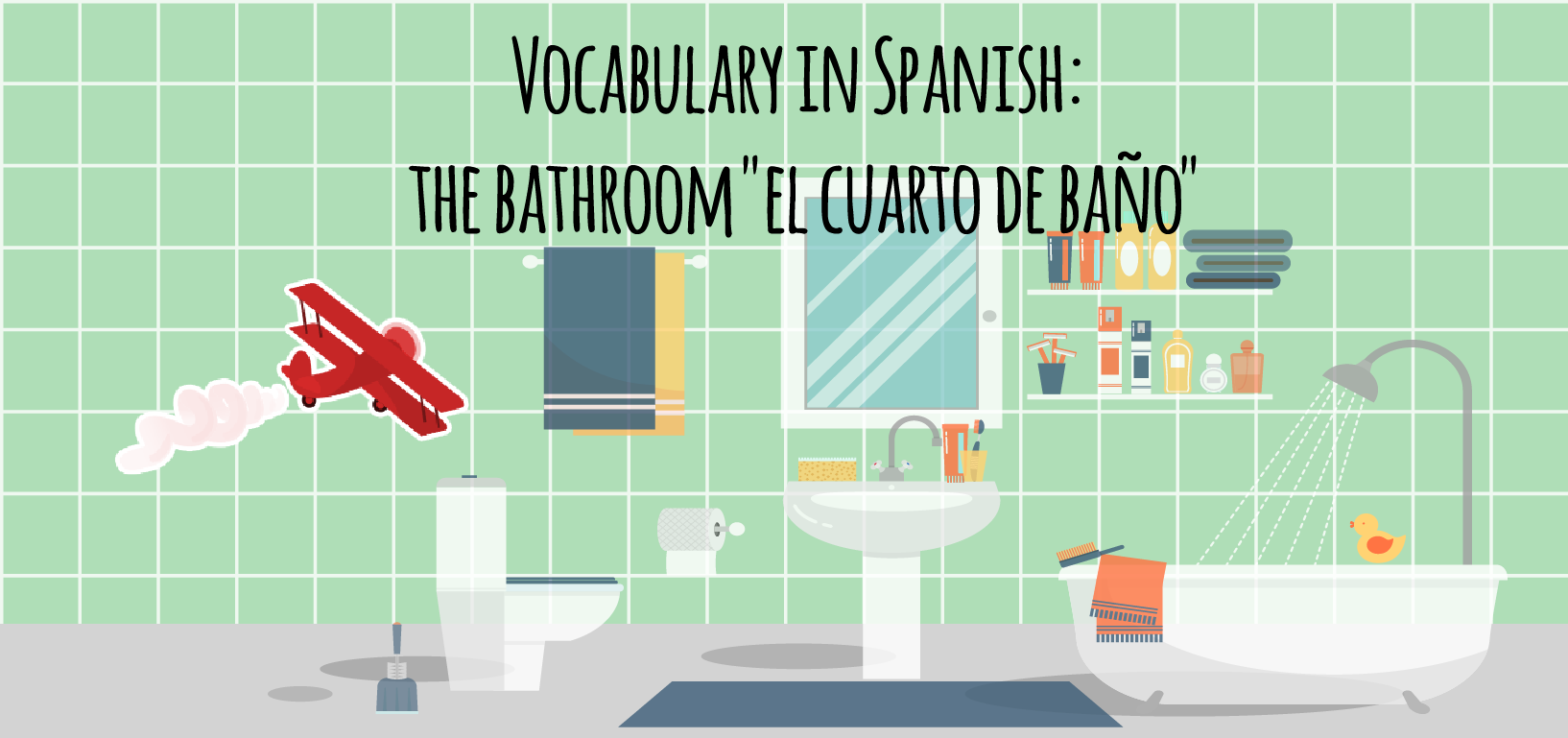 Do you know what all the things in your bathroom are called in Spanish?
In the bathroom we usually have many things and it is important if you want to expand your vocabulary that you know how you can say them in Spanish. Here I present you today a list of those things with their respective translation. I hope to be helpful.
Bathroom vocabulary
Basket / cesta.
Bathtub / bañera, tina.
Bath mat / alfombra de baño.
Bath salts / sales de baño.
Bathroom cabinet / armario del cuarto de baño.
Bathroom stool / taburete.
Bidet / bidé.
Bin / papelera.
Brush / cepillo.
Bubble / burbuja.
Cold water / agua fría.
Cold water tap, faucet / llave de agua fría.
Comb / peine.
Conditioner / acondicionador para cabello.
Cotton balls / bolas de algodón.
Curling iron / plancha de cabello.
Curtain / cortina.
Deodorant / desodorante.
Drain / desagüe.
Eau de cologne / agua de colonia.
Faucet / grifo, llave.
Floss / hilo dental.
Foam / espuma.
Garbage can / cesto de basura.
Hair dryer / secador de pelo.
Hair gel / gomina.
Hairbrush / cepillo de pelo.
Hair drier / secador de pelo.
Hand towel / toallita de mano.
Hot water / agua caliente.
Hot water tap, faucet / llave de agua caliente.
Laundry hamper / cesto de ropa sucia.
Lipstick / lápiz de labios.
Lotion / loción.
Make-up / maquillaje.
Medicine chest / botiquín.
Mirror  / espejo.
Mouthwash / Enjuague bucal.
Nail Brush / cepillo de uñas.
Perfume / perfume.
Nail clippers / cortaúñas.
Razor blade / hoja de afeitar.
Nail polish / esmalte de uñas.
Razor / maquinilla de afeitar.
Electric razor / maquinilla de afeitar eléctrica.
Scale / balanza, báscula.
Shampoo / champú.
Shaver / maquinilla de afeitar eléctrica.
Shaving cream / crema de afeitar.
Shelf / estantería, repisa.
Shaving foam / espuma de afeitar.
Shower / ducha.
Sink / lavabo.
Shower curtain / cortina de la ducha.
Soap / jabón.
Shower gel / gel de ducha.
Sponge / esponja.
Soap dish / jabonera.
Stopper / tapón.
Soap dispenser / dispensador de jabón.
Tap / grifo, canilla.
Tile / azulejo.
Toilet /  inodoro.
Toilet paper / papel higiénico o sanitario.
Towel / toalla.
Towel rack / toallero.
Toothbrush / cepillo de dientes.
Toothpaste / pasta dental, crema dental.
Tub / tina, bañera.
Tweezers / pinzas depiladoras.
Urinal / urinario.
Washbasin / lavamanos.
Washcloth / toalla de ducha.
WC / escusado, baño.
Idioms or expressions
Powder one 's face or nose / ir al baño (las mujeres).
See a man about a dog / salir de un lugar con la excusa de ir al baño.
Nature stop / parada para ir al baño o interrupción para ir al baño.
Be caught short / tener necesidad urgente de ir al baño.
Answer the call of nature / responder al llamado de la naturaleza.
A cat 's bath / se refiere a algo dura muy poco tiempo.
To brush one 's hair or teeth / cepillarse el pelo o los dientes
Comb one's hair / peinarse.
To take a bath or a shower / Tomar un baño, bañarse o ducharse
The different ways to say bathroom in English
The most commons are:
This expression is from American English and is used essentially to refer to public toilets, for example; in a store, mall, etc. (It is almost never used to refer to a bathroom in a house).
Used in British English to refer to the bathroom.
Other:

The loo (most common in the UK).
Lavatory (only for planes, trains and buses).
Bathroom (most common in the US and Canada).
Washroom (most common in Australia and the UK).
Toilet (refers to the toilet).
The gents '/ the ladies' (colloquial).
WC (more in Europe, although it is not common among natives).
The john (very colloquial).
The can (very colloquial).

You will already have clear each of those elements in which the bathroom of your house may be. How do you usually say to the bathroom in English? Do you sing in the shower? ☺ Tell us… Until our next article.