The most difficult Spanish grammar concepts to master for an Englishman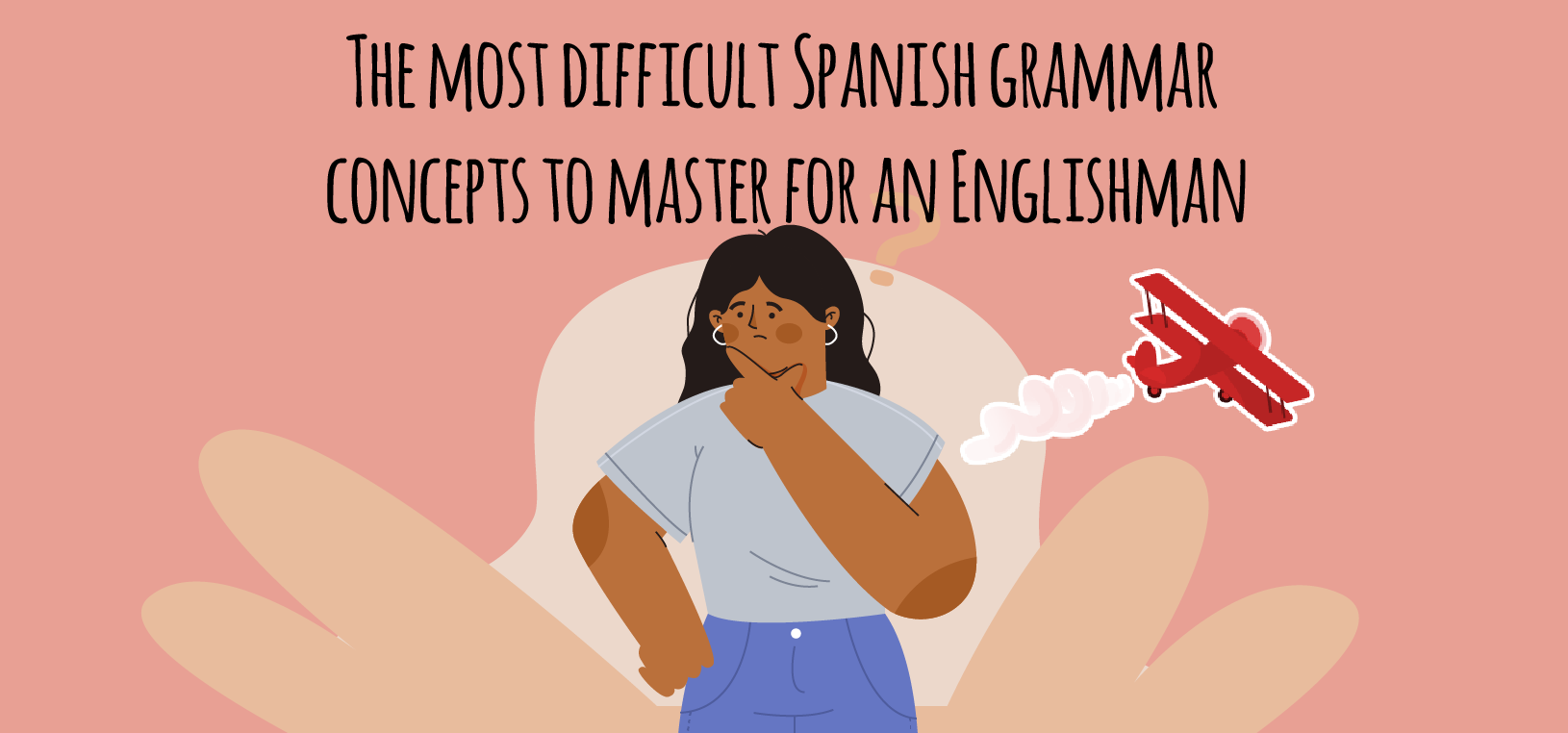 The most difficult Spanish grammar concepts to master for an Englishman.
Learning a new language is never an easy task. Each language has its peculiarities and Spanish is no exception. From subjunctive to reflexive verbs, Spanish grammar has its fair share of complicated concepts.
While some new English learners of the language may find a concept particularly difficult, others struggle with a completely different one. However, when it comes to pinpointing the most difficult Spanish grammatical concepts to master, it is found that the majority of Spanish students mention the same. Without further ado, here are the most difficult Spanish grammar concepts to master , including tips on how to overcome them and exercises to reinforce them:
Gender-specific nouns
In Spanish, nouns have gender. Most of the time, gender is easy to spot, as feminine nouns almost always end in -a and masculine nouns almost always end in -o. But for the best results when noticing the gender of the word, pay more attention to the article! If it's a feminine noun, use the, and masculine nouns use the:
the house – la casa
the dog – el perro
However, if it were that simple, nouns would not have made it onto the list of the hardest Spanish grammar concepts to master. Some nouns in Spanish are "exceptional", think of them as "free spirit" nouns. They can end in -a, but their gender is masculine, like:
Water – agua
the map – mapa
Or nouns that end in -o, but their gender is feminine:
The Spanish grammatical concept of gender-specific nouns is not that difficult to understand . In fact, the English language has a few examples of its own that can help you understand the logic behind them: waiter / waitress, actor / actress. The hard part is how to tell if that specific noun you are using is feminine or masculine.
How to overcome gender nouns?
Practice in real time, don't memorize . You can try to memorize them all, but memorizing is not the best way to learn a language. However, when you speak, read, write, and listen in Spanish, you develop a natural understanding of how the language works. Through regular practice in real-time settings (with a language partner or Spanish tutor), knowing the gender of nouns naturally becomes mastery.
To be – Ser o Estar 
One of the most difficult Spanish grammatical concepts for language learners to understand is the use of the verbs ser and estar. Both verbs translate to "to be" and native English speakers find it very difficult to know when to use which.
How to get over two words to "be"
Use estar when describing temporary states such as emotions, position, or physical condition:
I am happy. (Estoy feliz)
and use ser for permanent statuses as name, nationality or profession:
I am a journalist. (Soy periodista)
Irregular verbs
A common moment of despair for most Spanish learners is when they have mastered the numerous conjugations of regular verbs and then discover the irregular verbs. With these types of verbs, the usual conjugation rules do not apply and it is necessary to learn the unique conjugation of each of these verbs.
How to overcome irregular verbs?
I know I just said that memorizing things is not the best way to learn a new language, but in this case, there is no other way. You need to memorize the conjugations of the irregular verbs and then practice them a lot.
The subjunctive
In Spanish, in addition to all the different tenses, there are three modes: indicative, subjunctive, and imperative. The indicative is "normal", the one you study at the beginning of your learning process . The imperative is used only to give orders or warnings. And then there is the subjunctive, which is a bit more complicated.
How to overcome the subjunctive?
 The challenge presented by the Spanish subjunctive is knowing when to use it. My recommendation is to think of it as a way to express hope or wish. If you use the word hopefully, it is a good clue that you should use the subjunctive. These are not the only cases, but they will help you become more familiar with it.
Prepositions
You use prepositions to connect different parts of a sentence, like nouns and pronouns. In Spanish, you have 23 prepositions to work with and then you can also use prepositional phrases . The concept of prepositions is not that difficult to understand, the problem is to master their use and, once again, that is only achieved with practice.
How to overcome prepositions
Slowly. Start with three of the most common Spanish prepositions, let's say: a, de and en. Use them in every possible context, and when you've mastered them, add three more. Then three more, and then keep adding them until you have mastered the 23 prepositions in Spanish.
Past tense: Preterite or Imperfect
In Spanish, use the past tense to describe actions that were completed in the past. On the other hand, use the imperfect to describe actions that are repeated or that are in progress. Using the past tense can be tricky at times, especially with irregular verbs. However, the big problem is not really the conjugations, but learning when to use which of the past tenses.
How to get over the past tense
Here it is important to learn the different endings (which are not difficult), but the key is to think of the past as a more definitive past, something that cannot be changed.
Direct and indirect object pronouns
These pronouns are the words you use to replace direct and indirect objects in a sentence. For a detailed explanation of this concept, you may want to read this. For now, trust me, this is one of the grammatical concepts in Spanish that students struggle with the most.
Direct object pronouns
(yo) me
(tú) te
(él / ella) lo / la
(nosotros) nos
(ustedes) les
(ellos / ellas) los / las
Indirect object pronouns
(yo) me
(tú) te
(él / ella) le
(nosotros) nos
(ustedes) les
(ellos / ellas) les
How to overcome direct and indirect object pronouns
The only way to master direct and indirect object pronouns is to memorize them and try to use them in as many situations as possible. Practice, one more time.
Verb like
The verb like is translated as "gusta", however the way it works in a sentence is completely different from that of English. Hence the difficulty for native English speakers. In fact, he applies what he has learned about reflexive verbs and indirect object pronouns to this verb.
How to overcome the verb like
The key is to understand that when you want to say something as simple as "I like to listen to music", you do not use the verb gustar but the reflexive verb I like, as in I like to listen to music.
Carry vs Bring
Both verbs can be translated as "bring", but carry is more like "carry", while bring means something like "bring here." Fate decides which verb to use.
How to beat Carry vs Bring?
If the destination is "there", use take away; if the destination is "here", use bring.
Remember, if you want to obtain an official language degree, here is the number 1 online platform