The order of adjectives in English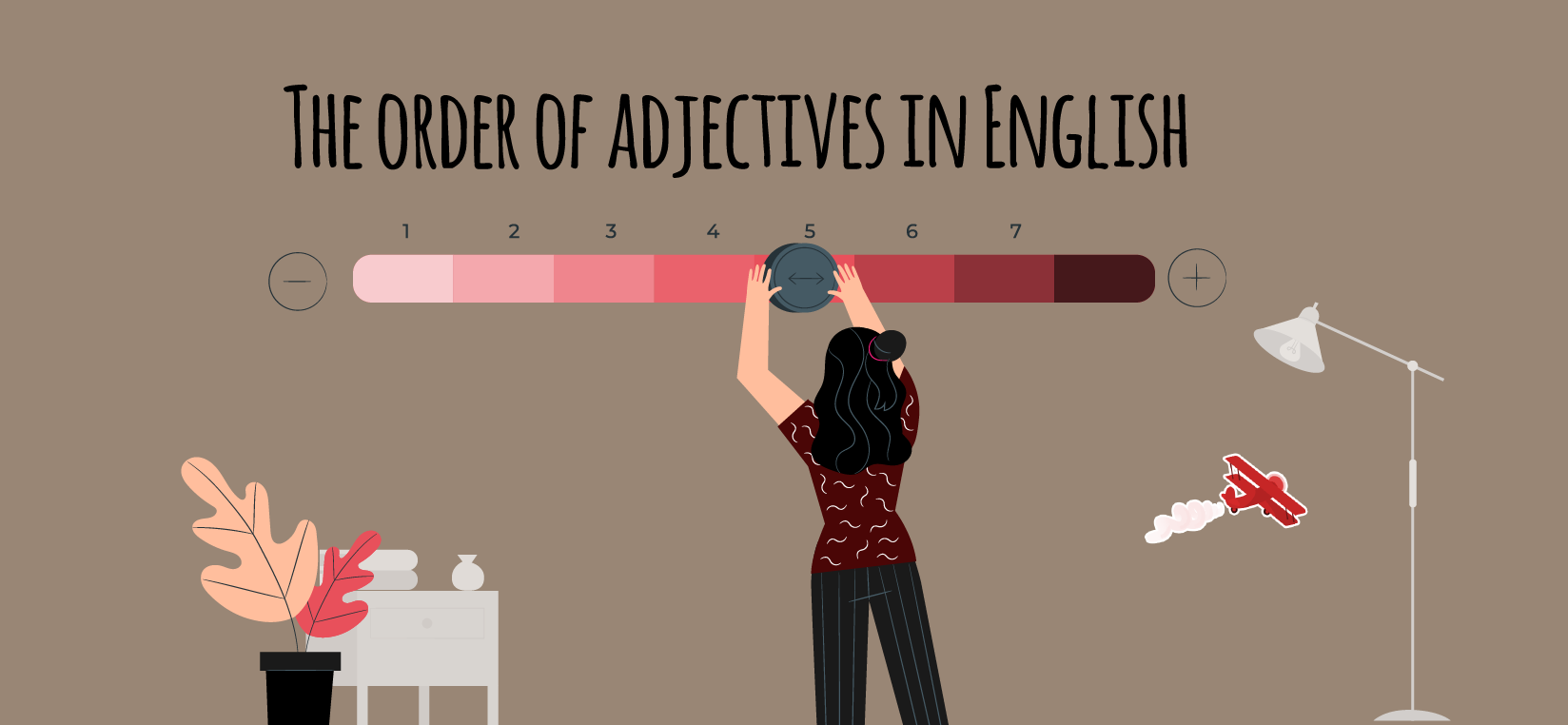 The order of adjectives in English
Have you ever wondered why in English it is said: "a big black dog" (un gran negro perro) and not "a big dog black" (un gran perro negro)? It is because in English grammar there is a predetermined order for the use of adjectives that describe objects . In this article we are going to take some clarification steps to explain the order of adjectives in English.
Order of adjectives
When there is more than one adjective accompanying a noun, the adjectives are usually in a particular order. Adjectives that inform opinions and attitudes usually come first:
"She was wearing an amazing red coat". (Llevaba un abrigo rojo increíble).
"Not: … red amazing coat"  (No: … abrigo rojo increíble)
If we don't want to emphasize any of the adjectives, the most common formula is:
| | | |
| --- | --- | --- |
| order | Relating to | examples |
| 1 | opinion | opinion unusual, lovely, beautiful |
| 2 | size | big, small, tall |
| 3 | physical quality | thin, rough, untidy |
| 4 | shape | round, square, rectangular |
| 5 | age | young, old, youthful |
| 6 | color | blue, red, pink |
| 7 | origin | Dutch, Japanese, Turkish |
| 8 | material | metal, wood, plastic |
| 9 | type | general-purpose, four-sided, U-shaped |
| 10 | purpose | cleaning, hammering, cooking |
Examples:
1 – 6 – 8
It was made of a strange, green, metallic material. (Estaba hecho de un material: extraño, verde,  metálico).
2 – 4 – 8
It's a  long, narrow, plastic brush. (Es un cepillo de plástico largo y estrecho)
4 – 7 – 9
Panettone is a   round, Italian, bread-like Christmas cake.
(Panettone is a round, Italian, bread-like Christmas cake.)
These are some made-up examples of longer adjectival phrases. A noun phrase that includes all of these types would be extremely rare.
1- 2 – 3 – 5 – 6 – 7
She was a beautiful, tall, thin, young, black-haired, Scottish woman.
(Era una mujer escocesa hermosa, alta, delgada, joven, de cabello negro).
1 – 2 – 5 – 7
What an amazing, little, old, Chinese cup and saucer!
(¡Qué taza y platillo chino tan asombroso, pequeño y viejo!).
Adjectives joined "by and" (por y)
When more than one adjective appears after a verb such as ser (a linking verb), the penultimate adjective is usually connected to the last adjective "by / and": (por / y)
Home was always a warm, welcoming place. Now it is sad, dark and cold. (El hogar siempre fue un lugar cálido y acogedor. Ahora está triste, oscuro y frío).
And it is less common when there is more than one adjective before the noun (for example, a warm and welcoming place). However, we can use and when there are two or more adjectives of the same type, or when the adjectives refer to different parts of the same thing:
It was a blue and green cotton shirt. (Era una camisa de algodón azul y verde).
The order of cumulative adjectives in English
Placement
Type of Adjective
Examples
1

Article,

Demonstrative Determiner, or

Possessive Determiner

a, an, the

this, that, those, these

my, your, his, our

2
Quantity
one, three, ninety-nine
3
Opinion or Observation
beautiful, clever, witty, well-mannered
4
Size
big, medium-sized, small
5
Physical Quality
thin, lumpy, cluttered
6
Shape
square, round, long
7
Age
young, middle-aged, old
8
Color / Color
red, blue, purple
9
Origin or Religion
French, Buddhist
10
Material
metal, leather, wooden
eleven
Type
L-shaped, two-sided, all-purpose
12
. Purpose, or

. Attributive Noun

. mixing, drinking, cooking

. service, football, head
Coordinate adjectives
Coordinate adjectives are also multiple adjectives that modify the same noun, but with coordinate adjectives their order is much less important because they can be used individually with the noun. In other words, they don't accumulate their meaning with other adjectives. Additionally, coordinate adjectives must be separated with commas or "and" to make it clear that they are not cumulative adjectives.
"white, lumpy spots" (manchas blancas con bultos)
"white and lumpy spots" (manchas blancas y abultadas)
"lumpy, white spots" (manchas blancas y grumosas)
"lumpy and white spots" (manchas blancas y grumosas)
(These are coordinate adjectives because they can be reversed or separated with a comma or "and").
Must take into account
That sometimes, an adjective and a noun are inseparable because they belong together as a single semantic unit (that is, a recognized thing). For example:
"my wooden Spanish guitar" (mi guitarra española de madera). (Como una "guitarra española" es una cosa reconocida, "español" no ocupa su lugar de acuerdo con la lista de precedencia. No se puede separar de "guitarra").
"my Spanish wooden guitar" (mi guitarra de madera española). (Esto también es correcto, pero es diferente. Estos son adjetivos acumulativos que toman su orden de acuerdo con la lista de precedencia. Podría ser un bajo fabricado en España).
Here are some more examples:
"He was a deluded fat cat in City of London". (Era un gato gordo engañado en la City de Londres).
"The rock ripped his expensive wet suit" (La piedra rasgó su costoso traje de neopreno).
Also, and if you want to obtain an official language degree, check the next available calls on this platform .
HOW ARE ADJECTIVES USED IN ENGLISH?
9 TIPS TO MAKE A PERFECT WRITING