The arabic alphabet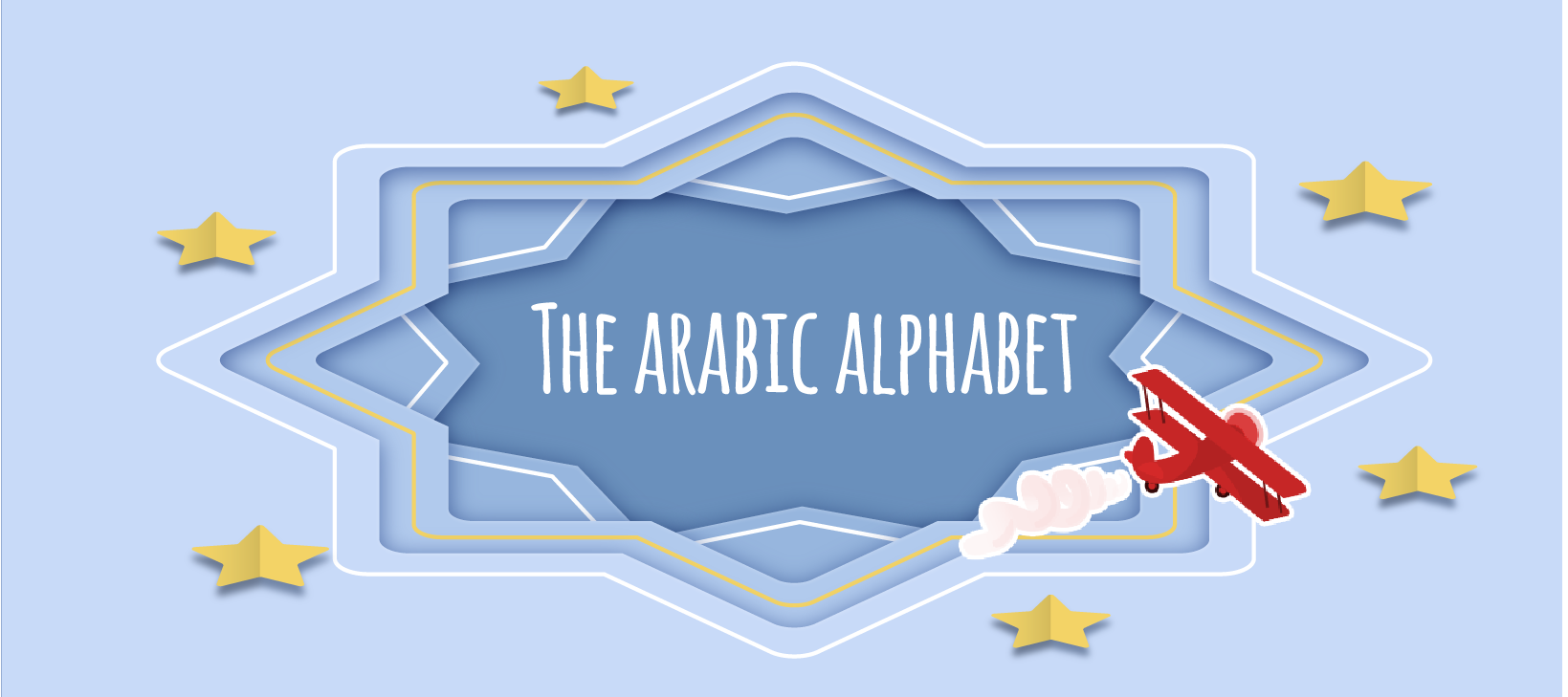 The arabic alphabet
INDEX OF CONTENTS
Arabic letter shapes
The role of vowels in Arabic
Through this article we invite you to discover and learn the 28 Arabic letters thanks to a table that includes these letters and their sounds (in a simple way, and not with phonetic language), but also thanks to the decomposition of many words to distinguish them .
Arabic letter shapes
In fact, it is important to know that an Arabic letter does not have the same shape depending on its position in a word. There are three positions, one at the beginning, middle and end of the word !
For example, the letter jim: ﺝ that we pronounce [j] can be written in these three ways depending on its position: End: ـﺞ; Medium: ـﺠـ; Start: ﺟـ
Besides the positions, there are also different tones for the same letter.
For example, the letter ba: ﺏ can be pronounced [ba], [bou], [bi], or even [b].
It is important that the ideas of upper and lower case do not exist in Arabic: the writing is unicameral .
Finally, Arabic is written and read from right to left! Here is the table with the letters and their pronunciation:
The role of vowels in Arabic
Vowels play a leading role in the Arabic language, just with a vowel change, the word used may take on a completely different meaning. Here are the four most used vowels:
Fatha that gives the sound [a] (putting a small acute accent above the letter),
Damma that gives the [o] sound (putting a little loop on top),
Kasra that gives the [i] sound (putting a little acute accent below) and
Soukoun who gives the sound of the letter (placing a small circle above); these vowels apply to all 28 letters, and here are some examples:
For a better assimilation of the Arabic alphabet, we will look at several words and break them down to locate and memorize these 28 letters (remember, Arabic is read from right to left) :
Alif letter : ا [a] Book = كِتَاب [kitab]: ب = b, ا = a, تَ = ta, كِ = ki ←

Letter ba : ب [b]
Cow = بَقَرَة [baqara]: ة = a, رَ = r, قَ = qa بَ = ba ←
Doctor = طَبِيب [tabib]: ب = b, ي = i, بِ = bi, طَ = ta (at the origin of the word: doctor)
Television = تِلِفِزْيُون [tilifizyoun]: ن = n, و = o, يُ = y, زْ = z, فِ = fi, لِ = li, تِ = ti
Three = ثلاثة (or ٣) [Thalaatha] → [salaasa]: ة = a, ث = th, ا = a, ل = l, ث = th
Camel = جَمَل [jamal]: ل = l, مَ = ma, جَ = ha
Letter ha : ح [h] Pierre = حَجَر [hajar]: ر = r, جَ = ja, حَ =
ha Sunday = الأَحَد [al'ahad]: د = d, حَ = ha, أَ = a, ل = l, ا = a
Kha letter : ﺥ [kh] or [r]
Pan = خُبْز [khoubz]: ز = z, بْ = b, خُ = khou
Dal letter: د [d] Rose (flower) = وردة [warda]: ة = ah, د = d, ر = r, و = w
Country = بَلَد [balad]: د = d, لَ = la, بَ = ba
Letter dhal : ذ [ð] or [dh = z]
Wolf = ذئب [dhiab]: ب = b, ئ = ia, ذ = dh (z) Corn = ذَرة [dhara] → [zara]: ة = a, ر = r, ذَ = dha (za)
Orange (fruit) = البرتقالي [albourtouqali]: ي = i ,, ل = l, ق = q, تُ = tou, ر = r, بُ = bou, ل = l, ا = a
Sugar = سُكَّر [soukar]: ر = r, كَّ = ka, سُ = sou
Giraffe = زَرَافَة [zarafa]: ة = a, فَ = fa, ا = a, رَ = ra, زَ = za Carrot = جَزَر [jazar]: ر = r, زَ = za, جَ = ja
Peace = سَلام [salam]: م = m, ا = a, ل = l, سَ = sa Leo = أسَد [asad]: د = d, س = s, أ = a Sol = شَمس [farce]: س = s , م = m, شَ = sha
Apricot = مِشْمِش [hodgepodge]: ش = sh, مِ = mi, شْ = sh, مِ = mi
Sad letter: ص [ss]
Daily = صَحِيفَةٌ [sahifatoun]: ةٌ = toun, فَ = fa, ي = y, حِ = ha, صَ = sa
Scissors = مِقَصّ [miqass]: صّ = ss, قَ = qa, مِ = mi
Letter from dad: ض [d]
Vegetables = خُضَار [khoudar] (kh = r): ر = r, ا = a, ضَ = da, خُ = kh
Earth (planet) = أرض [ard]: ض = d, ر = r, أ = a
Duck = بَطَّة [robe]: ة = a, طَّ = ta, بَ = ba
Chat = قِط [qit]: قِ = qi, ط = t
Darkness = ظُلْمَة [zoulma]: ة = a, مَ = ma, لْ = l, ظُ = zou
Umbrella = مِظَلَّة [mizalla]: ة = a, لَّ = l, ظَ = za, مِ = mi
Full of people = مُكْتَظُ [mouktazou]: ظُ = zou, تَ = ta, كْ = k, مُ = soft
Letter 'ayn: ع [ea] or [ra] (pronounced at the back of the throat)
Jus = عَصِيرٌ ['asiroun]: رٌ = roun, ي = i, صِ = ssi, عَ = a
Stadium (football) = مَلْعَبٌ [maleaboun]: بٌ = boun, عَ = ea, لْ = l, مَ = ma
Rana = ضَفْدَع [dafdara]: ع = ra, دَ = da, فْ = f, ضَ = da
Ghayn letter: غ [gh] or [r]
Forest = غَابَة [ghaba] (gh = r): ة = a, بَ = ba, ا = a, غَ = gh (= r)
Morocco = الْـمَغْرِبُ [almaghribou]: بُ = bou, رِ = ri, غْ = r, مَ = ma, لْ = l, ا = a
Brain = دِمَاغ [dimagh]: غ = gh, ا = a, مَ = ma, دِ = di
Butterfly = فَراشَة [farasha]: ة = ha, شَ = sh, ا = a, ر = r, فَ = fa
Pepper = فُلْفُلٌ [foulfouloun]: لٌ = loun, فُ = crazy, لْ = l, فُ = crazy
Sword = سَيْف [saiyf]: ف = f, يْ = y, سَ = sa
Feather = قَلَمٌ [qalam]: مٌ = m, لَ = la, قَ = qa
Time (duration) = وَقْت [waqt]: ت = t, قْ = q, وَ = wa
Couscous = كسكس [kouskous]: س = ss, ك = k, س = ss, ك = k
Poisson = سمك
[Samak]: ك = k, م = ma, س = sa
Milk = لبن [labane]: ن = ne, ب = ba, ل = the Dog = كَلْب [kalb]: ب = b, لْ = l, كَ = ka
Letter mim: م [m] Luna = قَمَرٌ [qamaroun]: رٌ = roun, مَ = ma, قَ = qa
Flag = عَلَم ['alam] → [ralam]: م = m, لَ = la, عَ =' a
Bee = نَحْلة [nahla]: ة = a, ل = l, حْ = h, نَ = na I (pronoun) = أَنَا [ana]: ا = a, نَ = na, أَ = a (a future article will be dedicated to personal pronouns in Arabic, Chinese and Russian)
Horse = حِصَانٌ [hisan]: نٌ = noun, ا = a, صَ = ss, حِ hi
Phone = هَاتِفٌ [hatifoun]: فٌ = foun, تِ = ti, ا = a, هَ = ha
Clown = مُهَرِّج [mouharrij]: ج = j, رِّ = ri, هَ = ha, مُ = soft
Face = وَجْه [wajah]: ه = ah, جْ = j, وَ = wa
Pink (color) = وَرْدِي [wardi]: ي = i, دِ = di, رْ = r, وَ = wa
Black (color) = أَسْوَد [aswad]: د = d, وَ = wa, سْ = ss, أَ = a (a future article will be dedicated to colors in Arabic, Chinese and Russian)
Letter ya: ي [y] or [i] Main = يد [yad]: د = d, ي = ya
Pocket = جَيب [jayb]: ب = b, ي = y, جَ = ja
Gold (color) = ذَهَبِيّ [zahabi]: يّ = i, بِ = bi, هَ = ha, ذَ = dha (za)