Differences between LanguageCert and Linguaskill English exams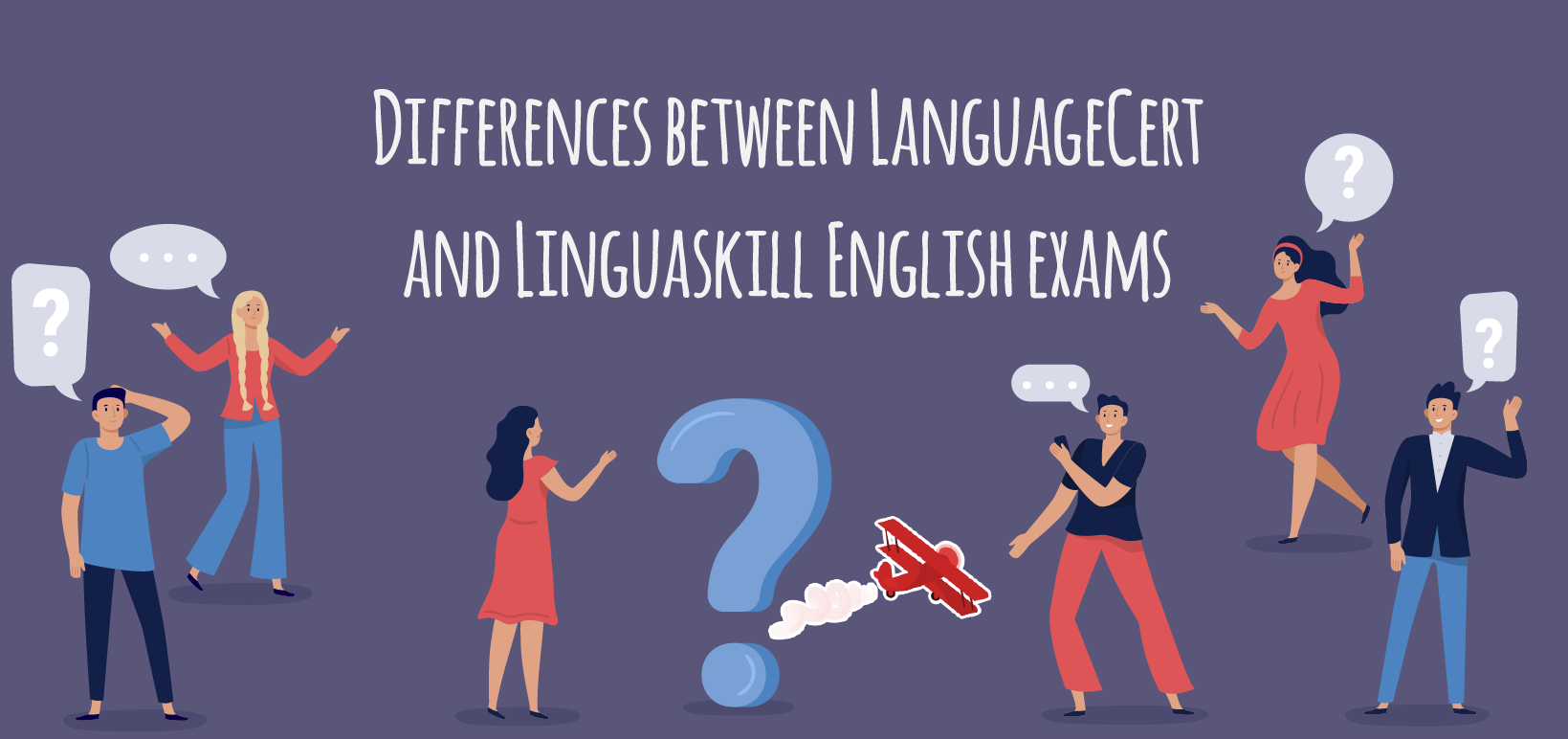 Differences between LanguageCert and Linguaskill English exams
INDEX OF CONTENTS
The LanguageCert organization
The Linguaskill organization
LanguageCert and Linguaskill Exam Comparison Chart
Exam criteria
When opting for a type of English exam you will have to take into account a series of considerations that make them different, and thus you can choose the best method that goes with your possibilities, or simply with your tastes. To do this, this time we detail the most outstanding features of two types of exams so that you can appreciate "The differences in English exams between languagecert and linguaskill". And in this case we start from the basis that linguaskill and languagecert are two very popular exam models . At the end we detail two comparative tables between the two types of exams.
The LanguageCert organization
 LanguageCert is a recognized organization dedicated to the assessment and certification of language skills and is sponsored by PeopleCert Qualifications Ltd., which is registered in the UK and established in 2015 and is responsible for the development and award of language qualifications. This organization conducts thousands of exams in 200 countries.
The characteristics of this exam:
Its most outstanding feature is that it is an official English certification that facilitates the completion of the exam tests at a distance and at the student's home . Their characteristics are:
Each level has 2 exams :

Written exam, which includes Listening, Reading, and Writing.
Spoken exam (oral), for Speaking skills

It is a learning method aimed at developing expressive skills specifically.
Its evaluation system consists of the written and oral exams being articulated separately.
It is characterized by the speed with which it evaluates the results and because it issues the digital certificates and also on paper, within a period of 10 days after the exam date.
Also, and very important is that you can set your pace in the exams and in developing all the official agendas. The written and oral tests are done separately or, and passing the tests that correspond to each field gives you the opportunity to get two different certificates. Also vocabulary and grammar are evaluated globally, not separately. The minimum mark that must be obtained to obtain the approval is 50% of the global.
The oral exam focuses on your determining your speaking ability, which is determined by your level of grammar and listening comprehension. The minimum mark is 50% to pass this part of the exam.
Remember that…
In examenexam you will be able to access future calls and your exam  center, with which we advise you to contact as soon as possible, as it will help you to resolve doubts regarding the organization of the exam and will keep you informed of everything.
The Linguaskill organization
 Linguaskill is the formula that the University of Cambridge provides us to certify a level of English. The fundamental Linguaskill feature is an English test that provides reliable results in just 48 hours.
You do not examine yourself for a specific level, because it is a multilevel test that you can take through a computer. In this sense, it gives you the option to choose what you want to examine in terms of skills to get a certificate. For example, you can choose to do the Speaking or the part that you need at a certain moment. It also gives you the option to perform all the skills at once and obtain your full certificate if you are ready for it.
Accessories you need to take the exam
The exam will be done using a laptop or desktop that has a minimum of 15 ". It is essential that you have a webcam to be able to perform these tests.
You should also have Internet, preferably with fiber optics, because it is what guarantees that the information can be processed properly and without problems to Cambridge. Anyway, if your Internet connection is good, make sure, take the test anyway. It is essential to have headphones and a microphone so that both Listening and Speaking are carried out normally. In this way your tests can be evaluated.
Criteria guaranteed by this test
First of all, it must be taken into account that it is a test recognized by the accredited University of Cambridge , and that it is also recognized by CRUE and ACLES for Erasmus, Bachelor's and Master's degrees; Also, until the present moment it is valid to add merits in the Secondary exams in any of the autonomous communities (of Spain), and it brings you a great benefit to enrich your curriculum. In addition, it offers you the possibility of having an official report in 48 hours and also something very important is that if in any module you have not obtained a good grade, you can repeat it to upload it, whenever you want.
It is a test that anyone can do, but the ones that can benefit the most are:
Students .
Universities .
Companies: Although it is a test that gives you quick results, it is still a very comprehensive test that guarantees general knowledge of the English language.
LanguageCert-Linguaskill exam comparison chart
level
languageCert
Linguaskill
languageCert
Linguaskill
LanguageCert
Linguaskill
Listening
Reading & Listening

Reading &

Writing

 Writing
Speaking
Speaking
A1
30 minutes
60-85 minut
130 minutes
 90 minutes
12 minutes
15 minutes
A2
30 minutes
60-85 minut
130 minutes
 90 minutes
12 minutes
15 minutes
B1
30 minutes
60-85 minut
130 minutes
 90 minutes
12 minutes
15 minutes
B2
30 minutes
60-85 minut
130 minutes
 90 minutes
12 minutes
15 minutes
C1
30 minutes
60-85 minut
130 minutes
 90 minutes
12 minutes
15 minutes
C2
30 minutes
60-85 minut
130 minutes
 90 minutes
12 minutes
15 minutes
Exam criteria
Organization
Exams
Evaluation
Evaluation date
certificate
LanguageCerte
PeopleCert Qualifications
Written exam

Spoken exam

Written-oral

Separately

Quick
10 days
Linguaskill
Cambridge University
multilevel
Flexible and modular
Quick
Official report in 48 hours