When to use Mr, Mrs, Ms in formal treatment?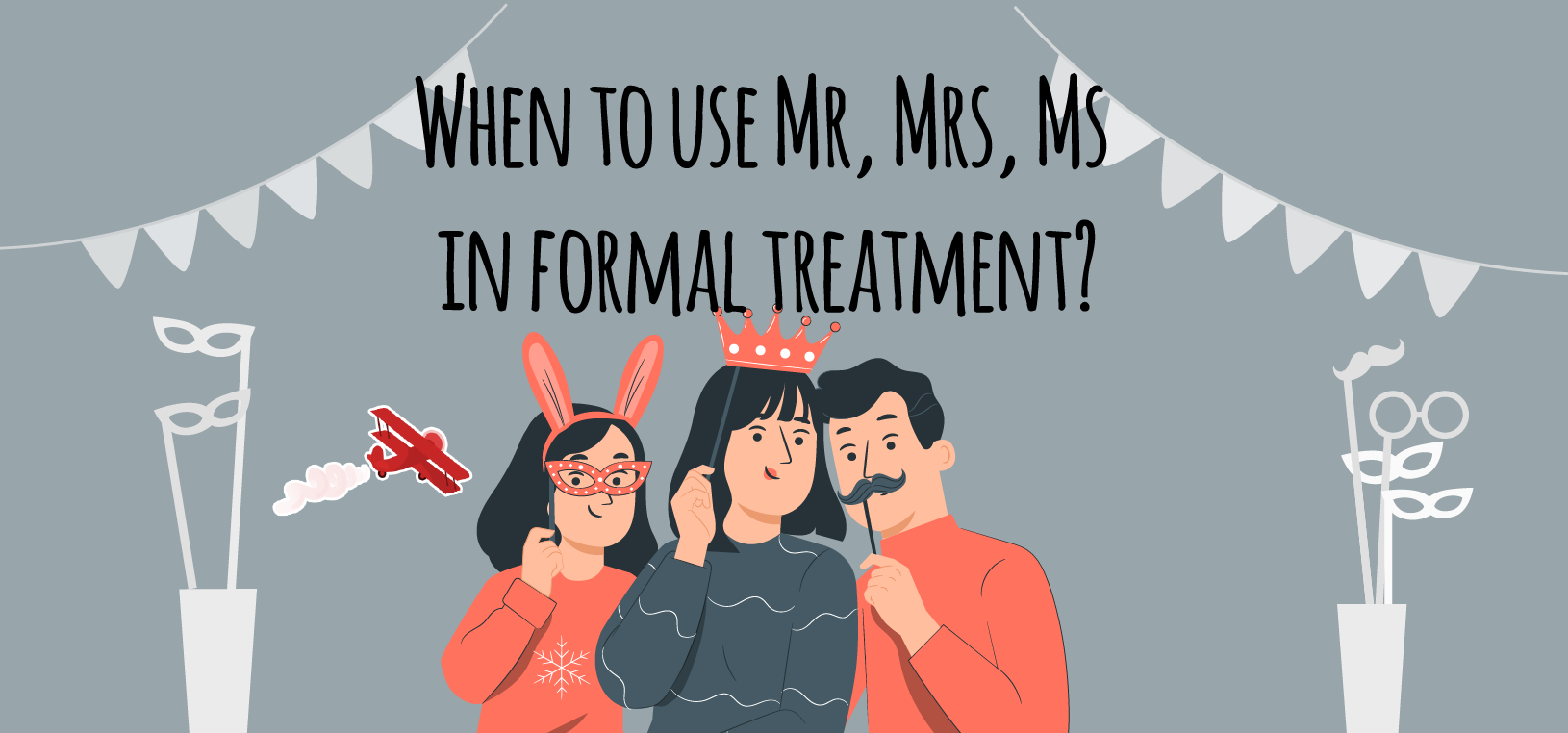 This post is also available in:

Español (Spanish)
When to use Mr, Mrs, Ms in formal treatment?
The rules of courtesy may seem similar in all countries of the world, but it is not like that and it depends on the culture, tradition or customs of each place, in this article we will explain "when to use Mr, Mrs, Ms in formal treatment "in English , so that when studying the language you assimilate from the beginning the rules that exist in the treatment of people.
The rules of conduct
When you are learning a foreign language, the most important thing is education, but be careful, the rules of conduct in one country differ from another in many aspects and the good language student has to pay attention to these things, so as not to make serious mistakes. The English drive on the left, while the Spanish drive on the right. Naturally, if you are in England, you would violate their rules of conduct if you do it as is the norm in Spain. In summary, you would be rude towards people, apart from the fine that would fall on you.
This translated into the language means that if you do not use the rules of courtesy given in that country, in this case in England, if you do not know how to use the correct words in the context in which you find yourself, you can make significant mistakes, for these reasons we are going to show in this article when to use Mr, Mrs and Ms in formal treatment, so you have any excuses.
Mr, Mrs, Ms. How will you know which one to use?
As you well know, it is not the same to deal with a person that you already know and that you have trust with, to do it with someone that you meet for the first time, or that you have seen on occasion but that you have no friendship with them. In each language there are codes of conduct that must be learned and identified, to know when to use Mr, Mrs, Ms in the formal treatment of this article, especially if you are studying English, so as not to unintentionally screw up when you direct a person.
English titles

In English they are called Titles (titles) to the treatments of people: Here are the abbreviations to refer you with the respect due to people you do not know: Mr. / Mrs. / Miss. / Ms.

Mr. = Mister. Sir ['mɪstər]  you must use it when it is an adult male , regardless of his marital status. Age is irrelevant here: boys are treated that way even when they are students. Used in conjunction with last name: Mr. Lewis. Therefore, Mr is an abbreviation of the word mister.
Mrs. = Misses. With this word you will mean when you speak with married women or of them . In other words, a "married woman". It is also often used when it refers to a young woman but if she is married. The abbreviation was formed from the word lover: this is how housewives were called in the 18th century in Great Britain. Also like "sir", it is used in conjunction with the last name: Mrs Lane is cooking a Christmas dinner.
It is not difficult to remember these messages that are basic in English. It is enough to know that the man is a man, and if we add the "s" to him, we obtain the title of his wife. It's also easy to remember how Mr. and Mrs. are written in English: always capitalized, like the last name of the person they are addressing. But whether or not you put a full stop after the shortening will depend on the English version you use. In British English, no period is placed after Mr and Mrs in writing, but in American English it is. The word must be pronounced in both cases in its entirety.
Miss = Single woman. The equivalent of "señorita" in Spanish . Miss & Ms: what is the difference? A little more difficult to distinguish than with Mr. and Mrs., the situation is the appeal to a young woman, whose marital status is unknown. That is, it is used when we talk about a woman or girl , who we know is not married. Miss in English is also placed before the last name of a woman or girl, but is most often used in relation to schoolgirls and students.
Keep in mind that it is the only one of the four references that must be written in its entirety, this means that it does not have any period at the end: Look! This is our new star, Miss Lopez! –
Ms. It is not an abbreviation, we must not confuse it. Ms. It became fashionable in the 70s, as an analogy to Mr., and is an abbreviation that refers to both single and married women. And in the event that you did not know if the woman is married or single, in English it is used: single woman. It is used when it is unknown if you are a married or single woman. This word sounds like "mizz", therefore it is a slightly different pronunciation, but louder than Miss. Like all other callings, it is used with the last name of a woman or girl: Please give these documents to Ms. Strait.
What is a married couple called?
In English the married couple is usually represented together under the same surname. For example, as in the movie "Mr. and Ms Smith" ("Mr. and Mrs. Smith"). In addition, it is the most popular words in a wedding celebration.
Also, for a formal writing or an official exam it is very important to take into account all these rules!