Languages ​​as culture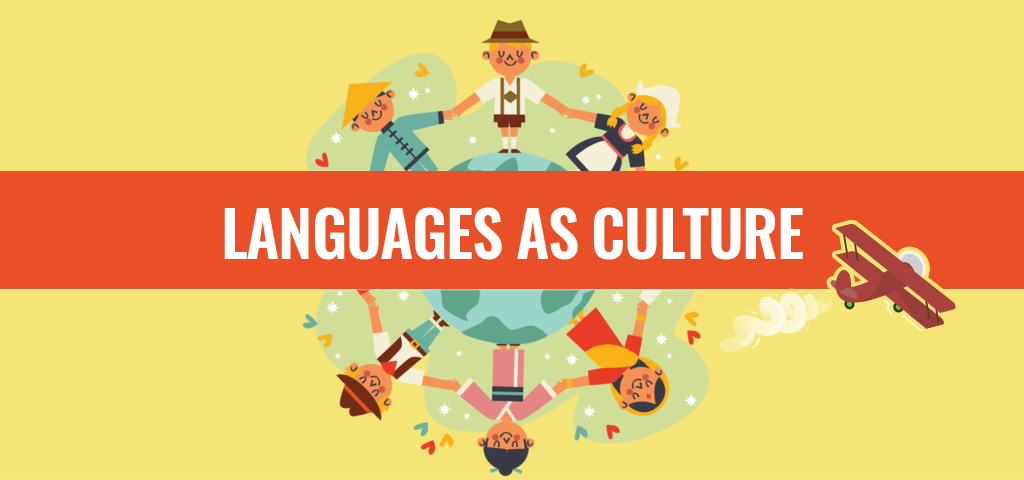 From personal experience, everyone knows that language is a fundamental part of a culture.
With it, a person expresses and exchanges their particular way of perceiving the world around them, while establishing their relationship with the environment. We can say that the language is the most important cultural expression of an entire nation.
How culture influences language
According to anthropology, culture is "a complex world that guards knowledge, ideas, art, law, morals, customs and all the potentials and habits acquired by the human being as a member of a certain culture.
That is to say, culture is the set of beliefs, norms, traditions, values ​​and symbols ; that are shared by the members of a community in different degrees.
The studies carried out in this regard reach the conclusion that every culture is distinguished by:
Be acquired: culture is received and disseminated through study, observation, traditions, which are transmitted and disseminated by generations.
Shared: all members of groups, families, and society itself must share it.
Be trans-generational: it is transmitted from one generation to another.
Able to adapt: culture is based on the ability of human beings to adapt or change.
Influence: the way the world is perceived: shapes behavior and structures the way a person interprets the world.
Cultures reflect what society values ​​or does not value in its language.
Language is a key part of your cultural identity
When someone is studying a foreign language, they probably do not pay attention to the cultural elements that determine it; However, behind each language, there are the customs, gastronomy, typical festivals, historical places, of a town that are the ingredients that provide it with light and the ability to correlate them with words and names. This explains that each word, name, adjective etc. arises from the relationship of man with his environment. Man and environment associate to create the culture of a country.
Let's see an example:
Bread: To learn the meaning of bread in Spanish, it is necessary to know what kind of bread is consumed (baguette, French bread, round bread or corn bread)? if it is a common food, daily, if it is accompanied by another food, if it is part of rituals, or if the word "bread" has various connotations.
It is necessary to insist that language is linked by an indissoluble link with culture and its phonetic or grammatical use is not enough. Thus, inquiring about the culture to which a language is linked means knowing the culture that is related to the words, which is important or better said fundamental to learn a new language in-depth and avoid any conflict or misunderstanding when maintaining a language conversation with a native,
Let us bear in mind that cultural learning is a bridge between two ways of living and thinking about the world. With this knowledge learned in the classroom, second language students become familiar with the so-called "culture shock" and thus see the world from a much broader perspective.
Languages ​​and cultures of origin
Until recently, the linguistic and cultural diversity of the classroom tended to be seen as an impediment. For the learning of what was considered essential: the teaching of Spanish to facilitate the integration of immigrant students in the educational system and in society in the fastest way.
Finally, this issue has radically changed in recent years and at this time we can see diversity (of all kinds). As a quarry of wealth that facilitates, that allows the different ways of approaching that reality not to be antagonistic, which is seen as a factor that broadens and enriches all people in contact with cultural diversity. Not only immigrants who arrive in a foreign country, but also indigenous people who acquire new knowledge and values thanks to that interaction that we could call intercultural.
Language as a vehicle for our cultural communication
When a person learns a new language they may think that just by knowing its grammar they have acquired the necessary knowledge to speak it correctly. However, as we have been affirming, the reality is very different. When we are already aware that learning a language is not enough to know its grammar and apply it like an automaton, but also to learn a whole series of strategies that derive from the cultural parameters in which it is developed.
In other words, in order to study a language correctly, one must learn to think like its speakers and live in that language. And this is because the language of a country is not only an objective for knowledge, it is also and fundamentally the vehicle of our communication. It is the transmission belt for journalistic information, literature, science and technology, innovation and arts such as theater, cinema and song.
Ultimately, language becomes a prerequisite for culture. Therefore, wherever we find or see cultural works of whatever kind, we will find language as a precondition. Behind it is the community of speakers who organize their linguistic signs (signifiers and signified). In relation to an organization of the experience of reality linked to the needs, interests, environment and culture of its community and its history.