Indefinite pronouns in English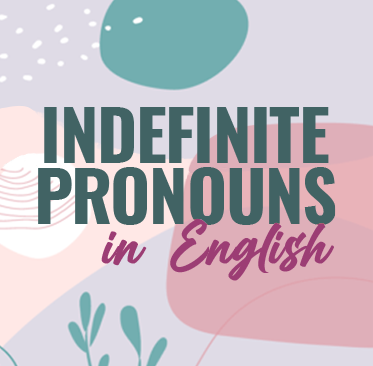 To begin with, it is important to remember that it is a pronoun. A pronoun is a word that we use to replace a noun, they are part of the vocabulary and basic grammar. Indefinite pronouns are used to refer to things or people without directly saying who or what they are.
They are formed by combining the quantifiers every-, some-, any- and no- with a word that indicates person, place, or thing (one or body, where, and thing).
Principal indefinite pronouns
PEOPLE
Everyone
Todos/as, todo el mundo
Everybody
No one
Nadie
Nobody
Someone
Alguien
Somebody
Anyone
Alguien
when asking
Anybody
Anyone
Cualquiera
by affirming
Anybody
Anyone
Nadie
by denying
Anybody
THINGS
Everything
Todo
Nothing
Nada
Something
Algo
cualquier cosa
Algo
when asking
cualquier cosa
Cualquier cosa
by affirming
cualquier cosa
Nada
by denying
PLACE
Everywhere
En todas partes
Somewhere
Algún lugar
Anywhere
cualquiera
Nowhere
Ningún lugar
All the basics are in the tables above, but to help you better understand this topic, we will explain some details for you to take into account. The first thing you should do is establish if what you want to replace refers to a person, a place, or a thing, from there, everything will be easier.
If you mention a person
then you must use any of the pronouns ending in -body and -one. For example, anybody, anyone, everybody, everyone, nobody, not one, somebody, and someone.
On the other hand, if what you want is to refer to one thing
you must use one of the indefinite pronouns ending in -thing. For example anything, everything, nothing, something.
And finally, if what you need is to refer to a place
then indefinite pronouns will end in –where. For example: anywhere, everywhere, nowhere, somewhere.
Other commonly used indefinite pronouns
| | |
| --- | --- |
| All | Todo |
| Another | Otro |
| Both | Ambos, los dos |
| Either | Cualquiera (de 2) |
| Each | Cada, cada uno |
| Few | Pocos, unos |
| Fewer | Menos |
| Less | Menos |
| Little | Poco |
| Many | Muchos |
| More | Más |
| Most | La mayoría |
| Much | Mucho |
| Neither | Ninguno (de 2) |
| None | Ninguna persona o personas |
| One | Un, uno |
| Other | Otro |
| Others | Otros |
| Several | Varios |
| Such | Tal, tan |
Grammar rules for the use of indefinite pronouns
Everybody loves Sally.
Todo el mundo ama a Sally.
Everything was ready for the party.
Todo estaba listo para la fiesta.
Indefinite pronouns are placed in the same place as a noun in the sentence.
I would like to go to Paris this summer.  I would like to go somewhere this summer.
Me gustaría ir a París este verano. Me gustaría ir a algún lugar este verano.
I won't tell your secret to Sam.  I won't tell your secret to anyone.
No le diré tu secreto a Sam. No le diré tu secreto a nadie.
Indefinite pronouns ending in -one are always singular. They include anyone, everyone, someone, and not one.
Everyone went to the party.
Todos fueron a la fiesta.
This is a book for anyone that loves poetry.
Este es un libro para cualquiera que le guste la poesía.
Indefinite pronouns ending in -body are always singular. These words include anybody, somebody, nobody.
There is somebody waiting for the bus.
Hay alguien esperando el autobús.
I don't know anybody in this city.
No conozco a nadie en esta ciudad.
The indefinite pronouns both, few, many, others, and several are always plural.
She has few friends.
Ella tiene pocos amigos.
There are several songs playing.
Están poniendo varias canciones.
Both of my friends dance ballet.
Mis dos amigos bailan ballet.
She has many dogs and cats.
Ella tiene muchos perros y gatos.
The indefinite pronouns all, any-, more, most, none, and some- can be singular or plural, depending on how they are used.
All I ask is your love.
Todo lo que pido es tu amor.
None of the boys wanted to listen.
Ninguno de los chicos quiere escuchar.
Most of the time I am hungry.
La mayoría del tiempo tengo hambre.
Some kids don't have modals on the table.
Algunos niños no tienen modales en la mesa.
When we refer to an indefinite pronoun, we normally use a plural pronoun.
Everybody enjoyed the concert. They stood up and clapped.
Todos disfrutaron del concierto. (Ellos) se pusieron de pie y aplaudieron.
I will tell somebody that dinner is ready. They have been waiting a long time.
Le diré a alguien que la cena está lista. (Ellos) han estado esperando mucho tiempo.
We can use the saxon genitive ("-'s") with indefinite pronouns of people and things to indicate possession.
Is everyone's money?
¿Es el dinero de todos?
They were staying in somebody's house.
Se estaban quedando en la casa de alguien.
Is this anybody's coat?
¿Es este el abrigo de alguien?
In affirmative sentences, the indefinite pronouns that use some- are used to describe an indefinite quantity.
Someone is sleeping in my bed.
Alguien duerme en mi cama.
Would you like something to eat?
¿Te gustaría algo para comer?
There is something in the sky.
Hay algo en el cielo.
Indefinite pronouns with every- are used to describe a complete quantity.
Everyone is sleeping in my bed.
Todos están durmiendo en mi cama.
Pronouns with no- are used to describe an absence.
No one is sleeping in my bed.
Nadie duerme en mi cama.
Indefinite pronouns with no- are often used in affirmative sentences with a negative meaning, but these are not negative sentences because they lack the word no.
There is nowhere as beautiful as Paris.
No hay lugar tan hermoso como París.
In negative sentences, we use no- pronouns, not pronouns with any-.
Nobody came. (NOT Anybody didn't come).
Nadie vino. (NO Nadie no vino).
No other negative is used in a sentence with nobody, not one or nothing. Nobody came. (NO one did not come).
Nobody came. (NOT Nobody didn't come).
No pasó nada. (NO No pasó nada).
Nothing happened. (NOT Nothing didn't happen).
No pasó nada. (NO No pasó nada).
We use else after indefinite pronouns to refer to other people or things.
All the family came, but no one else.
Vino toda la familia, pero nadie más.
If Michael can't come, we'll ask somebody else.
Si Michael no puede venir, preguntaremos a alguien más.
I think this is somebody else's coat.
Creo que este es el abrigo de otra persona.
Any- and indefinite pronouns formed with it can also be used in affirmative sentences with a meaning close to every: anyone, anywhere, anything, etc.
They can choose anything from the menu.
Pueden elegir cualquier cosa del menú.
You may invite anybody you want to your birthday party.
Puedes invitar a quien quieras a tu fiesta de cumpleaños.
We can go anywhere you'd like this summer.
Podemos ir a donde quieras este verano.
He would give anything to get into Oxford.
Daría cualquier cosa por entrar en Oxford.
Delighted to introduce you to Indefinite Pronouns in this way, take into account the rules and you will see that you will become an expert on the subject. Until the next article. If you have something to add or comment on, do not hesitate to write to us.