🏪 How to go shopping in English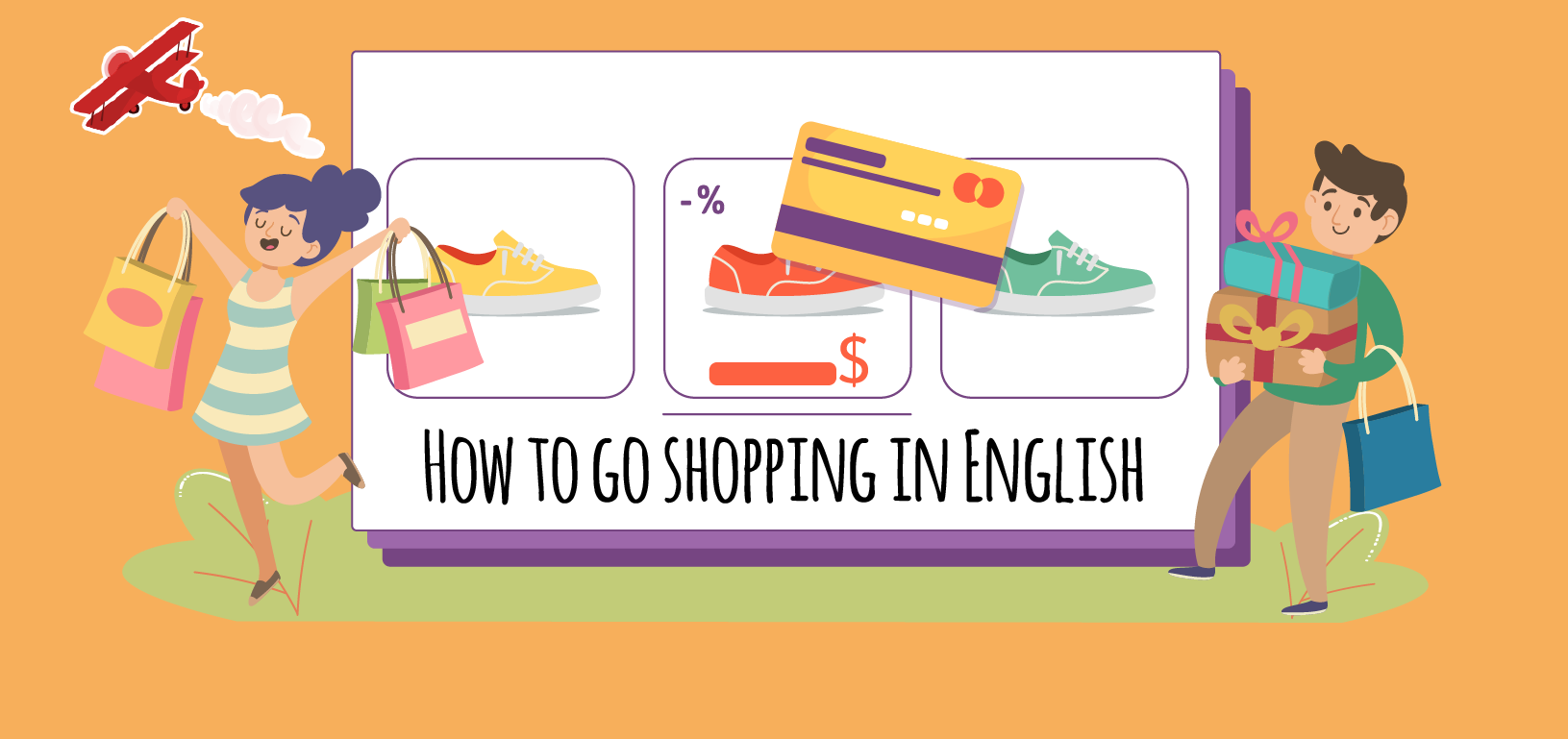 This post is also available in:

Español (Spanish)
How to go shopping in English
If we live fully in a foreign country and we still do not master its language, we may at first despair a bit when it comes to shopping, because we still do not handle its language and this can become annoying. Therefore, when we learn English online, we must take our time to absorb the vocabulary that we need to handle and also the phrases that we are likely to hear or that we want to use, to avoid some inconveniences.
This article aims to help you gain the understanding of the language you need to go shopping with the confidence to already handle some of the ins and outs of English.
Types of stores in English
We start with other words that can be used as a substitute for "shop":
hypermarket , (hipermercado ) point of sale, retail outlet, shopping park (a collection of large stores, usually outside the city center).
Bakeries (Panaderias): Stores where bread and cakes are sold.
Boutique : A fashion store, usually clothing.
Butcher shop (Carniceria) : Shop where meat is sold.
Cash and Carry (Tienda parecida al supermercado), where items are cheaper, although the variety is less. You usually have to become a "member" member to use cash and carry.
Charity shop (Tienda de caridad)– A shop that generally sells second-hand items (those that have been owned before) such as clothing, books, ornaments, and toys, where the money raised goes to charity.
Corner store (Tienda de la esquina)- A small local shop that sells food and often a variety of other useful goods.
Dairy products (Lácteos) – A store that sells dairy products.
Deli – A store that sells food, often from other countries, that is often not found in supermarkets.
Department store (Tienda departamental) – A large store, usually in a town or city center, that sells a wide variety of products, from electrical to clothing and toys.
Dry cleaners (Tintorerías)– A shop for cleaning suits, dresses, and items that you cannot wash at home.
Grocery store (Tienda de comestibles)- A store, usually small, that sells food and household items.
Greengrocers (Fruterías): a small shop that sells fresh fruits and vegetables.
Ironmongery (Ferretería) – A store that sells products we use at home, such as scrubbing bowls, hammers, and nails, and often cleaning supplies.
Newsstands (Quioscos de prensa)– A store that sells newspapers, cards, and stationery such as pens and pencils.
Supermarket (Supermercado)– A large store that sells a wide variety of products. Mainly food products and household items.
Online shopping in English
This is a useful service that most larger stores offer. It offers many linguistic advantages for a person who is still learning to speak English. There is a picture of the product you want to buy and the buying process is usually easy for a language learner to follow.
How to order something in English
There is a traditional way of shopping in English. In large stores, attendees usually wear some kind of uniform.
Politely approach an assistant:
Excuse me, do you sell (liquid detergent)? o Excuse me, I am looking for (dishwasher). (Disculpe, ¿vende (detergente líquido)? o Disculpe, estoy buscando (lavavajillas)).
If you are "browsing" (looking at products in a store), an assistant might come up to you and ask politely.
I can help you? o Are you looking for something in particular? (¿Puedo ayudarte? o ¿Buscas algo en particular?) son el tipo de frases que usarán. Esperan iniciar una conversación que conduzca a una sugerencia de venta.
If you want help, the type of answers you can give are:
Yes please, I'm looking for … or Yes please, how much are they …? (Sí por favor, estoy buscando… o Sí por favor, ¿cuánto son…?) (si desea conocer el costo de un artículo).
In the event that you do not want their help, a polite way to fire them may be as follows:
I'm fine, thanks, just browsing. Some sellers find it difficult to give up on a sales opportunity. (Estoy bien, gracias, solo navegando. A algunos vendedores les resulta difícil renunciar a una oportunidad de venta).
Another phrase that can be used to fire them is:
I'm just looking. (Solo estoy mirando).
Your rights
For new items, the products you buy must be suitable for the task for which they are designed and in good working order . If not, you have the right to get your money back or the product replaced. With larger items, like a car, you should give the seller a chance to fix the problem.
These are called your legal rights, so they are respected. Most electrical and mechanical items also come pre-warranted. The receipt you receive is usually the guarantee.
If you have a problem with something you buy, you should take it to the store where you bought it. Larger stores will have a returns or customer service desk.
Also, do not forget that if you want to obtain an official English qualification you should be attentive to the publications of the number 1 online platform.