Guide to preparing the Goethe-Zertifikat B2 German exam (teenagers)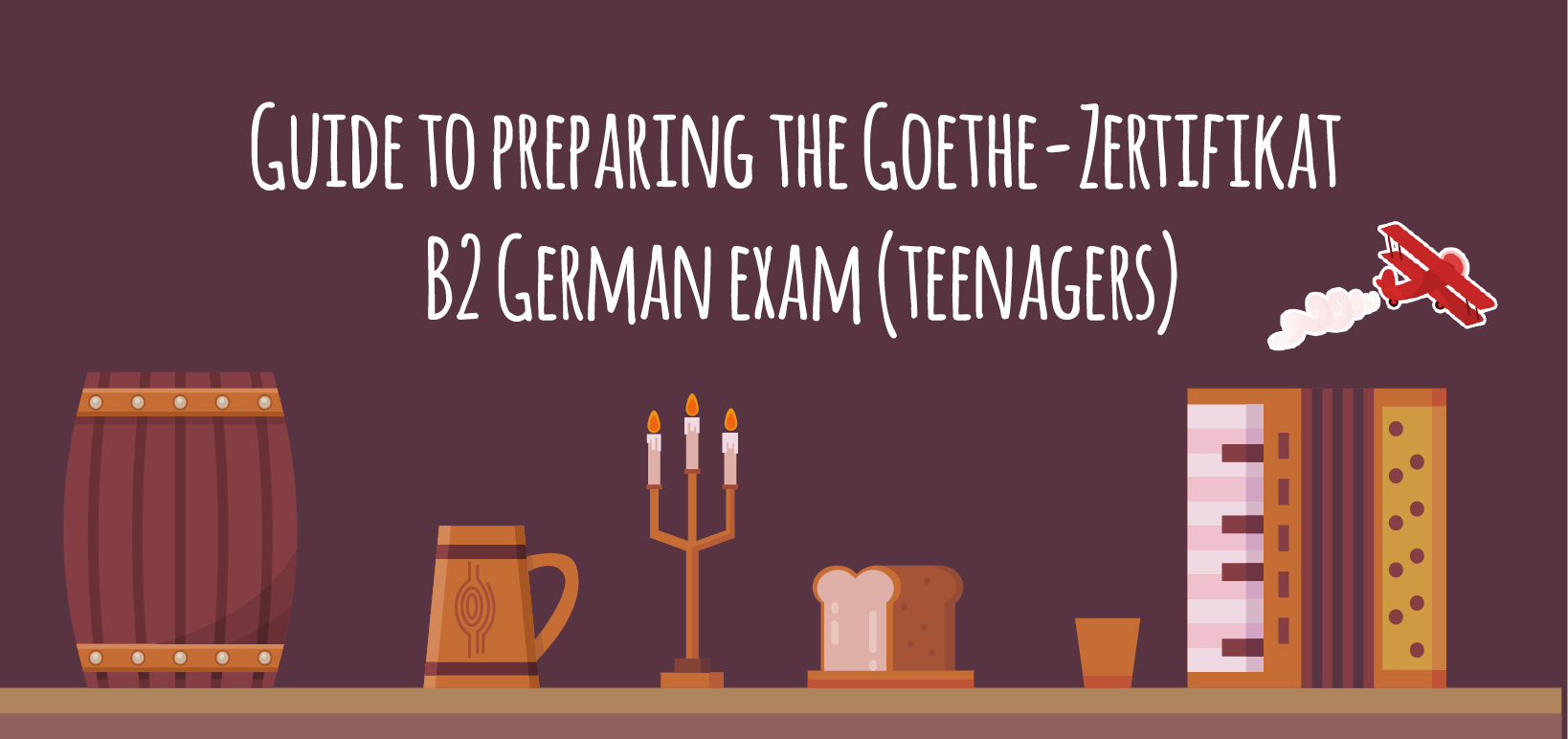 Guide to preparing the Goethe-Zertifikat B2 German exam (teenagers)
The Goethe Institute offers these students the possibility of making it possible. If your level is B2, you have the possibility of obtaining the Goethe-Zertifikat B2 certificate , which is a German exam for young people, which accredits independent use of German and corresponds to the third level (B2) of the six on the scale of competences of the Common European Framework of Reference for Languages ​​(CEFR).
So if your child or your students already have that level of German, today we want to help you prepare for the test so that they obtain the highest possible score, since obtaining a degree of these will bring them many benefits, as you have seen. Keep reading today's article, it is a complete guide with all the relevant information to prepare for the official German exam for level B2 for young people.
Exam structure:
In order for you to successfully and easily prepare for this exam and get certified, keep in mind that it consists of four parts: reading, listening, writing and speaking.
Take a good look at the specific structure of each test:
reads and understands various texts such as messages in forums, newspapers and magazines, comments and regulations. It is able to capture the main information and important details such as positions, opinions and standards. The duration of the test is 65 minutes.
expresses and bases its opinion on a forum comment on a current social issue. Also, write a formal note in the workplace context. The duration of the test is 75 minutes.
listen to interviews, lectures, conversations, and commentary from daily life and radio. He is able to grasp the main statements and the important details. The duration of the test approximately 40 minutes.
makes a brief presentation on a certain topic and talks about it with the other person. In addition, they exchange arguments in a debate. The duration of the test is 15 minutes.
Passing this exam means:
You can understand the main ideas of complex texts on both concrete and abstract topics, including technical conversations about your own specialty.
You can communicate fluently and spontaneously in such a way that communication with native speakers occurs without great effort on both sides.
You can express yourself clearly and in detail on a wide variety of topics, as well as express your point of view on a current issue, indicating the advantages and disadvantages of the different options.
The Goethe Institut puts at your disposal these exam regulations , surely it can help you a lot; We advise you to read it carefully, in addition to this manual with the objectives and description of the exam
How to prepare for the exam on your own:
Candidates for these tests are young boys who are used to studying and preparing exams on their own, so they should be able to face these types of tests alone. In any case, depending on the degree of maturity, some of them will need help: having someone around to help them organize, especially. We advise you as a teacher or parent to be the one who controls the study times and structure , especially for students who need it. It's important to have in mind:
They must know what they are doing, and they must give it their time and concentration.
For these ages, it is good that they do it with other boys their age . If it's not full time, then at least they interact with someone, study with someone and share, so that they find it entertaining and want to continue. That will cheer them up a lot.
These guys must already know German ; that is, they must already control the B1 level to be able to take this exam. So it is advisable that they have followed a previous course or have had contact with natives in an extended way in time. It is an intermediate level, so they must have extensive knowledge of the German language.
It is recommended that they prepare the tests in advance , so that they do not feel pressured and unmotivated; It is preferable that the preparation lasts longer, but that they do it in a relaxed way. That the time they dedicate to it be of quality and full concentration.
In addition to the above general tips, you must prepare the different specific tests that make up this exam, for which we advise:
Reading Comprehension:
the only thing they can do to prepare for this test is read as many texts as possible. They can take magazines, blogs, etc., it is about being motivated to read, so it is better for them to find and decide the topics. -Production of written texts: we advise that the boy write everything he can. You have to be quite aware of the spelling, since German is a rather complex language and different from Spanish. The same Institute indicates that in all Goethe-Institut exams, the Spelling Rules approved in 2006 are applied for the evaluation of the written tests.
Oral comprehension:
As it is about listening, we recommend that children dedicate themselves to listening to what they like the most, such as music in German, series, movies, etc.
Oral expression:
it is about talking, if possible with natives; practice is what will ensure success. Children must make the effort and make the most of all the vocabulary they have acquired in their readings, series, songs, movies. In case you may be interested in preparing them, the Institute puts this resource at hand , very interesting. It is advised that if you can make an exchange trip, that you take advantage of it. The latter will help you a lot when facing this type of exams.
Books to prepare for the Goethe-Zertifikat B2 exam :
We leave you a list of books that can help you prepare for this test:
FIT F. GOETHE-ZERTIF. B2 neu Erw. (L + Audios online)
Prufungstraining Goethe-Zertifikat B2
Mit erfolg zum goethe b2 zertifikat neu, test book
So gehts besser goethe ösd b2, neu
Recommended reading:
In the following link you have a number of books that will be good for you to start reading in German: https://elblogdeidiomas.es/lecturas-graduadas-aleman-b1-y-b2/ These books are adapted to the main levels, B1 and B2. It is about the boys choosing some that they like and that they read, so that they can practice and expand vocabulary and grammatical structures. It is recommended that you work with a dictionary nearby, to solve all your doubts.
Goethe-Zertifikat B2 exam registration :
So that you can successfully prepare for the exam and not have any doubts about it, we advise you that the first thing, first of all, is to contact an exam center, where the boy will take the tests, and that they explain everything you need. In the following link you can find your exam center.
The exams will be done in the morning shift . Minors will have to be registered by their legal representatives. Individual registration for a minor can be made by their legal representative through the Goethe Institute website. The registration of a whole group of candidates has to be carried out by the person in charge of the same, their teacher, boss, etc.
The exam takes place at selected exam centers, both digitally and on paper. Goethe-Zertifikat certificates A1 to C2 from the Goethe-Institut are valid for an unlimited period.
However, many institutions and employers require a certificate no more than two years old.
As a general rule, no duplicates are issued. However, if the exam dates back no more than ten years, the exam center where you took the exam may issue a replacement certificate subject to costs.
In order to study at a university, for example, you can certify your certificate at any administrative office (court, ministry, school, bank or similar). Employers often require the document to be certified by an accredited law firm.
If you need to translate your certificate, remember that you can order the sworn translation from a sworn translator or a translation agency.
Goethe-Zertifikat B2 exam results :
Remember that a module is approved if at least 60 points have been reached (60% of the maximum score).
The four modules can be overcome one at a time or together. The individual certificates of the four modules mentioned are equivalent to a global certificate.
This exam has been developed jointly by the Goethe-Institut, the University of Friborg / Switzerland and the ÖSD (Austrian German Language Diploma) and is offered worldwide under the name Goethe-Zertifikat B1 or ÖSD-Zertifikat B1.
You can always consult the results from the following link , although your exam center will be in charge of informing you. They are the ones who will tell you how they will do it.