Why study Hungarian?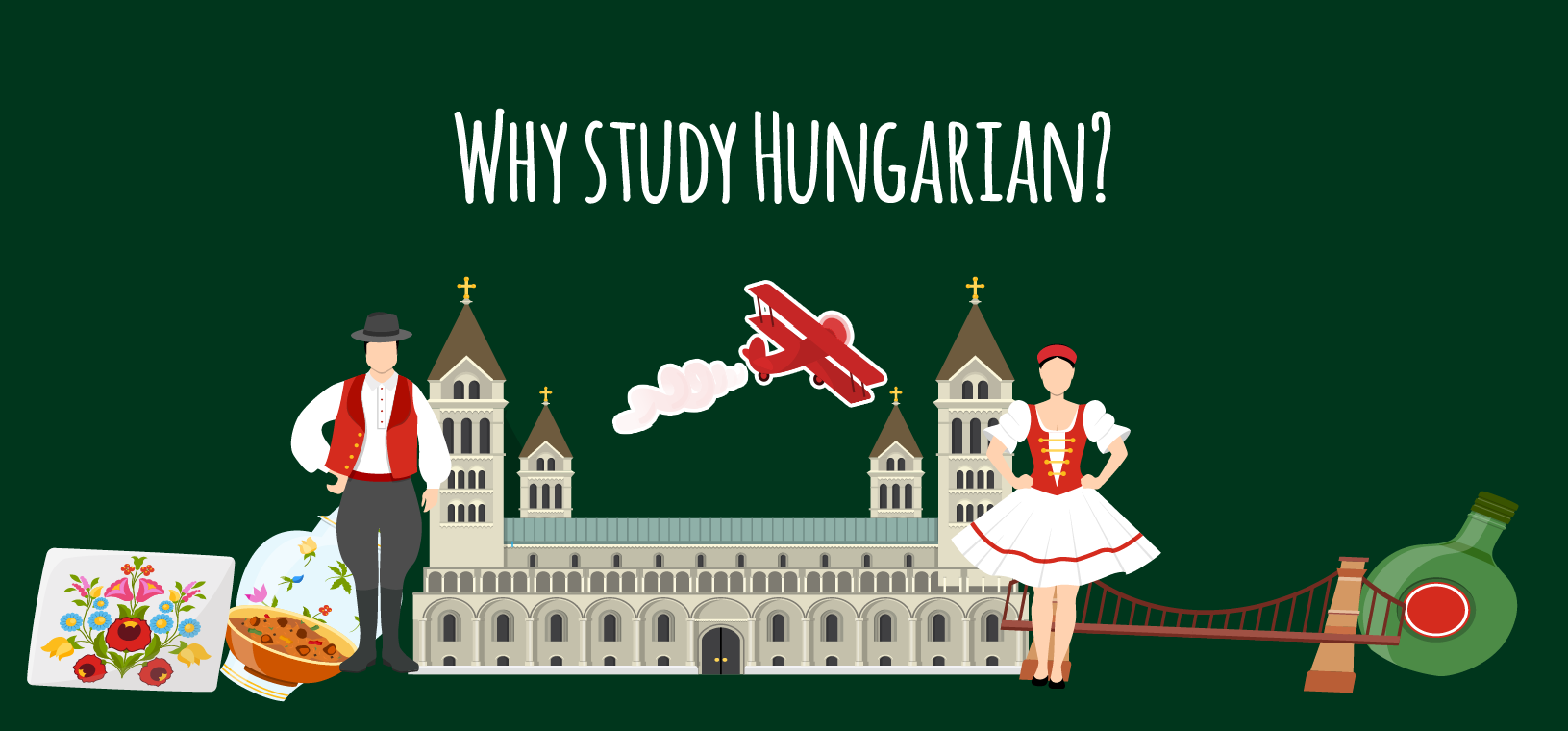 Why study Hungarian?
INDEX OF CONTENTS
Is Hungarian difficult?
What are the reasons to study Hungarian?
Useful phrases for traveling
There are so many reasons why it is worth learning a foreign language . Students who speak multiple languages ​​increase their chances of finding work, both in their own country and abroad. In addition, learning another language enriches the mind and opens new horizons, both personal and professional.
Written in the Latin alphabet, the Hungarian language is made up of 44 letters, including seven pairs of vowels and 25 consonants , all of which can be long or short, with a distinctive accent of meaning. The Hungarian accent is tonic and is always on the first syllable of words. It is notable that consecutive double letters or vowels are pronounced separately and that some double letters such as Cs, Sz and Ty are not broken.
Is Hungarian difficult?
If you are told that Hungarian is one of the most difficult languages ​​in the world, it will not necessarily motivate you to learn it. However, Hungarian is pronounced as written and its words are etymologically dissected. Which really simplifies the task! And then there are the words that sound great the first time and that we remember all the time. For example: egészségedre! (To your health ! )
What are the reasons why it is worth studying Hungarian?
First
Hungarian is one of the 10 most difficult languages ​​for a Spaniard to learn because it has quite a complex grammar for us. It belongs to the Finno-Ugric language group and is an "agglutinating" language . However, there is no doubt that knowing the Hungarian language, from a work point of view, will help you make a difference when looking for a job. In fact, any employer will no doubt be surprised if they read on your CV that you have studied Hungarian and will certainly appreciate it.
Second
Studying Hungarian is a great opportunity to get closer to the culture, literature and traditions of Eastern Europe. In addition, the Hungarian university system enjoys an excellent reputation and studying in a country like Hungary could be a truly unforgettable experience.
Third
Budapest, the capital of Hungary, is a wonderful city that has become a very popular tourist destination in recent years. Knowing the Hungarian language will allow you to travel peacefully to any part of Hungary and get in touch with the turbulent history and culture of this fantastic nation.
Fourth
If you intend to spend a study period in Hungary, the knowledge of the Hungarian language will help you to get a scholarship or win an Erasmus call more easily. Budapest is one of the most popular destinations for university students from around the world.
Fifth
Hungarian culture is one of the most varied and rich ever known in Europe. For many years Hungary lived under the Austro-Hungarian Empire and its culture is a testament to this. It is a country rich in history and traditions and its architecture is considered among the most beautiful and noble in all of Europe. Being able to get in touch with Hungarian history and art to really get to know it is an unforgettable experience.
We speak Hungarian! Useful phrases for traveling
Hungarian is a Finno-Ugric language that is spoken mainly in Hungary. In order not to be caught off guard during your next language study trip, learn the most useful phrases for traveling and for getting to know this wonderful language!
vocabulary
Hello! – Szia! / Jó napot!
Good Morning! – Jó reggelt!
Good night! – Jó estét!
Goodnight! – Jó éjszakát!
See you later! – Viszlát! / Szia!
How are you? – Hogy vagy?
Fine thanks. – Jól, köszönöm.
What is your name? – Hogy hivnak?
My name is _____. – For nevem….
Where are you from? – Honnan jöttél?
I am from ____. -… -ból / ből jövök.
Yes – Igen
No – Nem
Please – Kérlek
Thank you. – Köszönöm.
Thanks a lot. – Nagyon köszönöm.
You're welcome. – Szívesen / Nincs mit / Semmiség
I'm sorry. – Saxnálom
Excuse me. – Elnézést.
You're welcome! (out of nowhere) – Szívesen
I'm sorry. – Saxnálom
I did not understand -Nem megértettem
How much? – Mennyibe kerül?
Excuse me, where is it …? – Elnézést, hol van…?
Is this bus going to …? – Ez a busz megy … -ra?
When does the next train leave for…? – Mikor indul vonat… -ra?
How much does a ticket cost for…? – Mennyibe kerül egy jegy… -ra?
A ticket to …, please. – Egy jegyet kérek… -ig.
A table for… people, please? – Egy… személyes asztalt kérek?
Menu, please. – Az étlapot kérem.
I would like … – … kérek.
The check, please. – A számlát, legyen szíves.
Health! – Egészségedre!
Just as important as learning a language is having an official title that proves it. Here is the number 1 online platform.