Useful French proverbs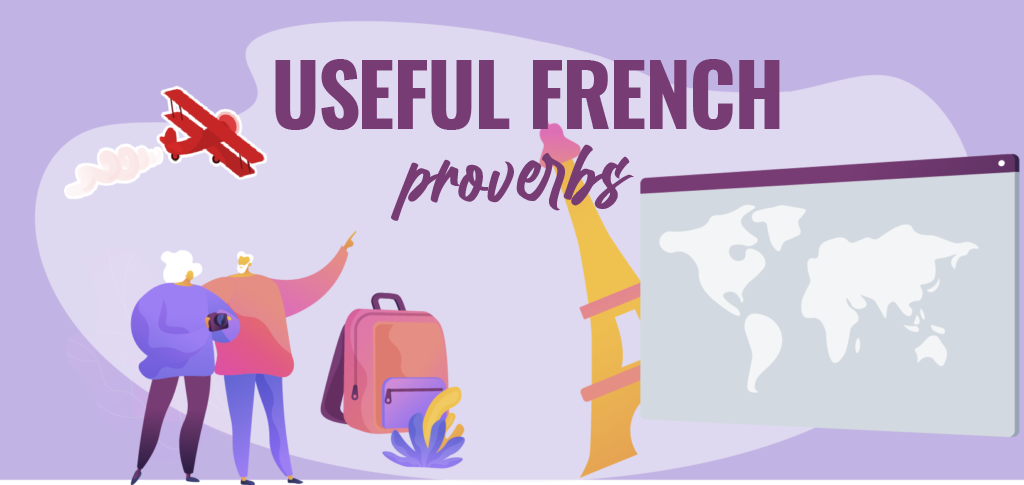 A proverb is a short statement of common sense truth or popular advice. Proverbs are popular sentences or meaningful, familiar words. The proverb announces a naive truth, extracted from observation.
By carefully observing the differences and the successive changes in the proverbial language, we could mark all the phases of the minds of the people. Each era has its dominant opinions, which are translated into popular formulas, and the sayings of a century explain its tastes, habits, and the special originality that distinguishes it from all others.
By changing qualities or vices, society changes proverbs, and this makes it clear why proverbs sometimes tell the pros and cons.
At all times there is a true proverbial language that expresses the first experiences of men and becomes the rudiments of their education. Discover some explanations, origins, and explanations of the most famous French proverbs.
Famous proverbs of French culture
Traditional sayings
On ne fait pas d'omelettes sans casser des oeufs.
You can't make omelets without breaking the eggs.
Il ne faut pas vendre la peau de l'ours avant de l'avoir tué.
You must not sell the bear's skin before you have killed it.
Pierre qui roule n'amasse pas mousse.
A rolling stone does not accumulate moss.
On n'apprend pas aux vieux singes à faire des grimaces.
We do not teach old monkeys to make faces.
Il faut prendre le taureau par les cornes.
We must take the bull by the horns.
Friendship
Il ne faut pas laisser croître l'herbe sur le chemin de l'amitié .
We must not let the grass grow in the way of friendship.
Votre ami endorse vos fautes, Votre ennemi vous les ressert.
Your friend swallows your faults, and your enemy returns them to you.
On connaît les bonnes sources dans la secheresse, et les bons amis dans la sad.
We know good sources in drought and good friends in sadness.
Ami de tous, ami de personne.
Friend of all, a friend of no one.
Recevoir sans donner fait tourner l'amitié.
Receive friendship without turning.
Les bons comptes font les bons amis.
Good accounts make good friends.
Love and romance
Il faut se quitter souvent pour s'aimer toujours.
They must be left often to always love each other.
Il n'est pas d'Éternelles amours.
There is no eternal love.
Amours nouvelles oublient les vieilles.
New loves forget old ones.
Loin des yeux, loin du heart.
Out of sight, out of mind.
Aime comme si un jour tu devais haïr, haïs comme si un jour tu devais aimer.
Love as if one day you had to hate, hate as if one day you had to love.
L'amour nait d'un regard, grandit dans un baiser et meurt dans une larme.
Love is born with a look, grows in a kiss, and dies in a tear.
L'amitié se finit parfois en amour, more rarely l'amour en amour.
Friendship sometimes ends in love, but love rarely ends in friendship.
Money
Il n'y a pas de petites économies.
There are no small savings.
L'argent est un bon serviteur et un mauvais maître d '.
Money is a good servant and a bad master.
On ne peut avoir le beurre et l'argent du beurre.
You can't have butter and butter money.
L'argent ne fait pas le bonheur, mais il y contribue.
Money doesn't buy happiness, but it contributes to it.
Anger and hate
La colère est aveugle.
Anger is blind.
L'envie et la colère abrègent la vie.
Envy and anger shorten life.
La soumission désarme la colère.
Submission disarms anger.
La vengeance est un plat qui se mange froid.
Revenge is a dish best served cold.
Quand les brebis enragent, elles sont pires que les loups.
When sheep are angry, they are worse than wolves.
Logic
Tout ce qui brille n'est pas or.
All that glitters is not gold.
Le soleil brille pour tout le monde.
The sun shines for everyone.
Il faut qu'une porte soit ouverte ou fermée.
A door must be opened or closed.
Pas de roses sans épines
There are not roses without spines.
Le plus court chemin est la ligne droite.
The shortest route is a straight line.
Il n'y a de si long jour qui ne vienne à la nuit.
There is no day so long that it does not come at night.
Wisdom
Mieux vaut sagesse que richesse.
Better wisdom than wealth.
Le fou semble sage quand il se tait.
The fool seems wise when he is silent.
Ecoute the councils of tous et prends celui qui te convient.
Listen to everyone's advice and take the one that's right for you.
Sagesse, beauté et gentillesse ne font bouillir aucun chaudron.
Wisdom, beauty, and goodness do not boil in any cauldron.
L and sage repose sur la racine de langue sa, voltige et le fou sur le bout de la sienne.
The wise man rests on the root of his tongue and the fool hovers on the tip of his.
Fun and humorous
A pisser contre le vent, on mouille sa chemise.
Pissing against the wind, we wet our shirts.
Quand on met la main à la pâte, il en reste toujours quelque chose aux doigts.
When you put your hand in the dough, there is always something left on your fingers.
Là où il ya du poil, il ya de la joie.
Where there is hair, there is joy.
Il ne faut pas se moquer des chiens avant d'être sorti du village.
The dogs should not be made fun of before leaving town.
Il ne faut pas péter plus haut que es cul.
You can't fart higher than his butt.
Il est facile de nager quand on vous tient le menton.
It is easy to swim when you hold your chin.