How do you use "rather" in English?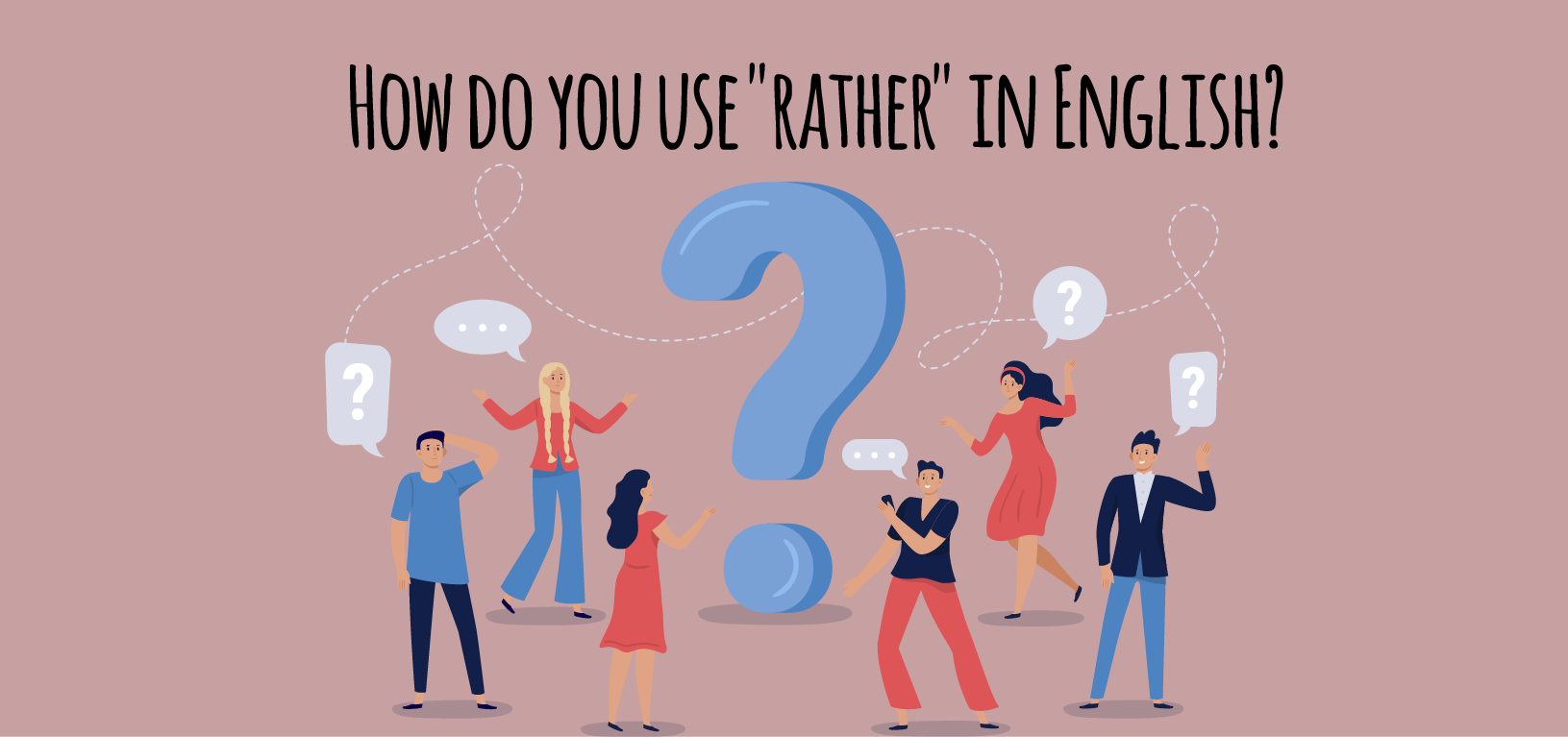 This post is also available in:

Español (Spanish)
How do you use "rather" in English?
INDEX OF CONTENTS
Like an adverb of degree
With adjective + noun
With noun
Rather a lot
Rather + verb
Rather: comparison
Rather like (more like)
Alternatives and preferences
In this article we are going to show you how and when rather (rather) is used as an adverb of degree . And also when we use it to express alternatives and preferences. It should be borne in mind that this word causes a lot of confusion to Spanish speakers because it has a multitude of meanings and therefore uses.
Like an adverb of degree
We use it to emphasize an adjective or adverb . Has a similar meaning to remove (quite) (when used remove with qualifying words. It is more formal than quite often use it to express something unexpected or surprising.:
A :
You're not just wasting your time here, are you?
No solo estás perdiendo el tiempo aquí, ¿verdad?
B :
No, I'm rather busy, in fact
No, estoy bastante ocupado, de hecho.
With adjective + noun
With a / an we usually use rather a / an + adjective + noun, but we can also use rather + adjective + noun. With other determiners (some, those) we use determiner + instead + adjective + noun:
We had to wait rather a long time. (or, less common, We had to wait a rather long time.) / Tuvimos que esperar bastante tiempo. (o, menos común, tuvimos que esperar bastante tiempo).
I had some rather bad news today. / Hoy he recibido malas noticias.
With noun
Rather, with a noun is more common in formal language than informal, particularly in writing:
It was rather a surprise to find them in the house before me / Fue bastante sorprendente encontrarlos en la casa antes que yo.
Rather a lot (Bastante)
We often use rather with a lot to refer to large amounts and quantities / A menudo usamos bastante con mucho para referirnos a grandes cantidades y cantidades
We also use rather a lot  to refer to often  :
They went there rather a lot / Fueron allí bastante
Rather + verb
We can use it to emphasize verbs . We use it most commonly with verbs like enjoy (enjoy),  hope (wait), like:
I was rather hoping you'd forgotten about that. / (Esperaba que te hubieras olvidado de eso).
He rather liked the idea of a well-paid job in Japan. / (Le gustaba bastante la idea de un trabajo bien remunerado en Japón.)
Rather: comparison
We use it with more or less + an adjective or adverb in formal writing to make a comparison with something:
Quite probably you simply didn't realise that peas and beans and sweet-corn are such valuable vegetables, and you will now continue to eat them rather more frequently because you like them anyway. / (Es muy probable que simplemente no te hayas dado cuenta de que los guisantes, los frijoles y el maíz dulce son vegetales tan valiosos, y ahora continuará comiéndolos con bastante más frecuencia porque de todos modos le gustan).
Now that she saw Rupert again, he was rather less interesting and a little older than she had remembered him / (Ahora que vio a Rupert de nuevo, era menos interesante y un poco mayor de lo que ella lo recordaba).
Rather like (Más bien como)
We use it with like to refer to similarities. We use quite like to mean "quite similar to":
They were small animals, rather like rats. / (Eran animales pequeños, más bien como ratas).
I was in the middle. I felt rather like a referee at a football match trying to be fair and keep the sides apart. / (Yo estaba en el medio. Me sentí más bien como un árbitro en un partido de fútbol tratando de ser justo y mantener los lados separados).
Comparison: adjectives bigger (más grande), biggest (más grande), more interesting (más interesante)
Alternatives and preferences
We use it instead of giving more importance to one thing when comparing two alternatives or preferences:
He wanted to be an actor rather than a comedian. / (Quería ser actor en lugar de comediante).
Can we come over on Saturday rather than Friday? / (¿Podemos venir el sábado en lugar del viernes?)
More than usual this happens between two things that are being compared. However, we can also use it at the beginning of a sentence. When we use instead of with a verb, we use the base form or (less commonly) the -ing form of a verb.
We hope that with this article and given the much confusion it generates for Spanish-speakers because it has a multitude of meanings and uses, we have contributed to clarify its more than complicated use, with which we will be satisfied.
To say goodbye we want to remind you that these are the next available calls with which to obtain your official title .