Easy-to-read Spanish books for beginners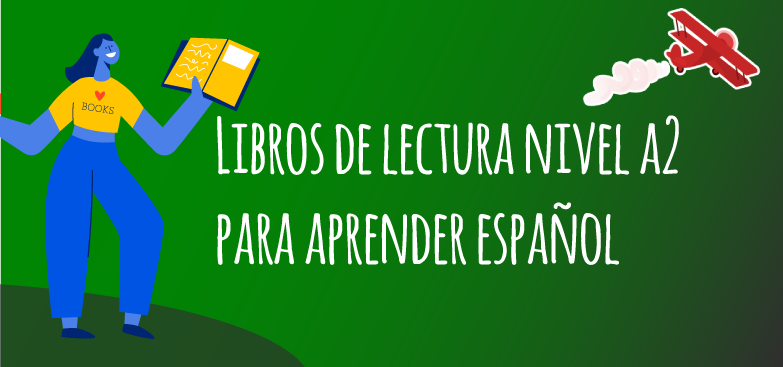 Are you already starting the A2 level of Spanish? Congratulations! That means that you already have some basic knowledge of the Spanish language that allows you to start communicating. We hope you are following our advice and are reading our graded reading proposals, as they will help you a lot in the learning process.
Today we bring you the best books for your new level, A2, or for your students. Books for different ages and different moments and moods; you decide which one to read. Let's go there, we hope you like them:
Spanish books A2 Level
We begin by proposing a collection of graded reading for children and adolescents, between 10 and 14 years old, and to learn Spanish level A1 / A2:
The secret of the cave
Juan, Andrés, and Rocío, three boys from Valladolid, spend a few days on vacation in the town of Andrés and Juan's grandparents, where they find, in an abandoned cave, a photo with five young people and various objects, including a letter that is there to decipher. Who are the people in the photo? Where are they? What is all that? The boys believe that, when they return to their city, they will be able to answer their questions, but… Don't miss out on what happens:
Devil's Island
In this second adventure, Juan, Andrés, and Rocío try to discover who the people in the photo found in the cave are, which will take them to Lanzarote, the devil's island. There they will meet Enrique and the adventure will continue …
The enigma of the letter
The boys manage to decipher the letter and find the place where Amancio is. But they don't know how to go to Mexico. Fortunately, this year your schools in Valladolid are going to participate in a cultural exchange with Mexico. Will they find Amancio? Mexico awaits you with open arms.
Mystery in Chichén Itzá
When Juan, Andrés, and Rocío arrive in Mexico everything surprises them. They know many aspects of the Mayan and Aztec civilizations. They discover some secrets about the life of Amancio who was also in the Dominican Republic. The boys live that adventure like a dream and back to Spain, they think that Santo Domingo is their next destination.
Amnesia
It is the story of an accident and a robbery, and of two men who lose their memory after the tragic events. One of them will have to learn everything anew and they will have to explain their customs, their history, culture… since they have completely forgotten everything about their life. Therefore, it is a perfect excuse to introduce a Spanish student to interesting and everyday aspects of our culture. The protagonist must try to recover his memory to find out what happened the night of the accident. The intrigue is, in this way, presented:
The secret of Christopher Columbus (A1-A2)
This is the second case of Yago Ayala and his friend Carmen. This time they will have to discreetly investigate a very peculiar robbery in Seville. Someone has entered the cathedral of Seville and has taken one of his bones from the tomb of Christopher Columbus. Will they find the thief?
Aimed at young and adult Spanish students with a level A1-A2, with a proposal of activities to work on reading comprehension (pre-reading, reading, and post-reading) and favoring oral interaction in the classroom.
Holidays in Mallorca (Los Fernandez)
It belongs to the Los Fernández collection, a contemporary, fun, and traveling family, very adventurous. The Fernándezes are going on vacation to Mallorca this time. In an art gallery, Lucas meets Claudia, a German artist, and falls in love with her, but after a few days, the girl disappears. Lucas desperately searches for her.
Maintains a current and representative language of spoken Spanish. Includes: explanatory notes in each chapter, comprehension and reflection activities after reading, a solution of the activities proposed at the end of the book:
Far from home
It is a story collected within the series of the publishing house Difusión: Lola Lago, detective. As the name suggests, all the stories in this series revolve around the adventures of a young, cunning, and a very dynamic detective named Lola Lago. Lola is surrounded by a group of assistants who work for her looking for information anywhere in Spain, for the quick resolution of all her cases. The story tells how a Colombian immigrant in Madrid, Humberto Salazar, is accused of having attacked a skinhead at the end of a football match. Margarita, a friend of Lola, asks for the help of the detective to clarify the case since it seems that Humberto is innocent. Lola begins her inquiries, with the help of her collaborators.
Twelve to twelve
Is a story that belongs to the series Another case of the detective Pepe Rey, which includes interesting and entertaining stories about the figure of a Madrid detective. This story deals with the case of a murder that occurred on the night of December 31, at the turn of the year. A famous actress comes to Pepe scared and asks for help because she has received a threat. The next day, the woman does not call and a few days later it is discovered that she has been killed by poisoning. Then Pepe Rey begins his investigation.
The man at the bar
It's a short and entertaining story from the Read in Spanish collection. The story takes place in Barcelona. This city has many hidden secrets and one of them is the one that will appear in our history.
The language used is simple and resources and vocabulary are used within the reach of students who study in the first levels of learning.
Autumn landscape
It's the story of the mysterious theft of a painting in a museum. In the Spanish Lectures collection, aspects of Spanish culture and the daily life of Spaniards are described naturally. In this case, the mysterious disappearance of a painting is used as an excuse after a thief tried to steal it without success because he was caught. The student is left with the intrigue of who the real thief may be.
Otto's dream
Carmen and Sylvie go by train to a town in Galicia, El Barco de Valdeorras, where their friend Otto awaits them. Otto has invited them to go there because on August 29 something very special is going to happen. On the train, Carmen and Sylvie remember how they met, a year before, and remember many stories that they lived together.
People who read
The adventures of some friends who come to Spain on vacation are told. They arrive by car in the Mediterranean area and go to a campsite. In this place, there are many people from Spanish vacationers to tourists of all nationalities and employees of the campsite. Very soon we learn that the campsite is in an area of ​​ecological interest, where many birds nest during the year, and that there are some builders who want to destroy it to set up a holiday center with hotels, apartments, a nightclub, swimming pools, etc. The protagonists of the story will try to save the campsite at all costs.
This book is intended for an entry-level student. The topics, vocabulary, structures, and functions correspond to the most common progression of this type of course.
The dolphin
Is a story of policemen and robbers that keeps the reader's interest and shows another type of lexicon. It is appropriate reading for a high entry-level, as there is an abundance of pasts. In the end, there are comprehension, grammar, and vocabulary exercises, which help the student to take advantage of this text.
The collection Readings in easy Spanish(A2)
Presents very diverse stories for different levels of learning. Some stories deal with topics that are very close to anyone and use a very useful vocabulary for the student; others are short and interesting novels.
It belongs to the collection Come to read and, within it, to a series of stories with the same characters called First flat that offers very useful cultural references for students of Spanish.
2. Front page:
It is the name of a newspaper and a series of journalists who end up becoming researchers. The journalists in this story are informed of the existence of a network of spies in which characters from different countries are mixed. Finally, they manage to discover her and thus help the Spanish police.
3. The mystery of the key:
Tells us the story of an archaeologist who goes to Toledo to try to decipher the inscriptions on a key that has appeared in excavations. But everything is not so easy; At the beginning of the story, it is told how the archaeologist has received a mysterious package with some newspapers in which they speak of the discovery of a synagogue in Toledo. It seems like someone wants to push him to go there to find out something. He's scared. He has recently been released from jail for something that is not told and he is afraid … but he does not know what to do. On the other hand, there is also a writer who sees Toledo and the new discovery as a perfect source of ideas for his new book.
It is a short story included in the collection of the Santillana publishing house, Read in Spanish. This collection offers adapted stories and original creations that are easy to read for students of any level, who, while practicing their knowledge, learn the expressions and culture of our country.
And with this last title, we close our reading recommendations in Spanish A2. Have you read any of these? Do you decide on one? We read you!
Movies to learn Spanish level A1 and A2
Guide for the official Spanish exam DELE A2