Complications of the verb 'keep' in English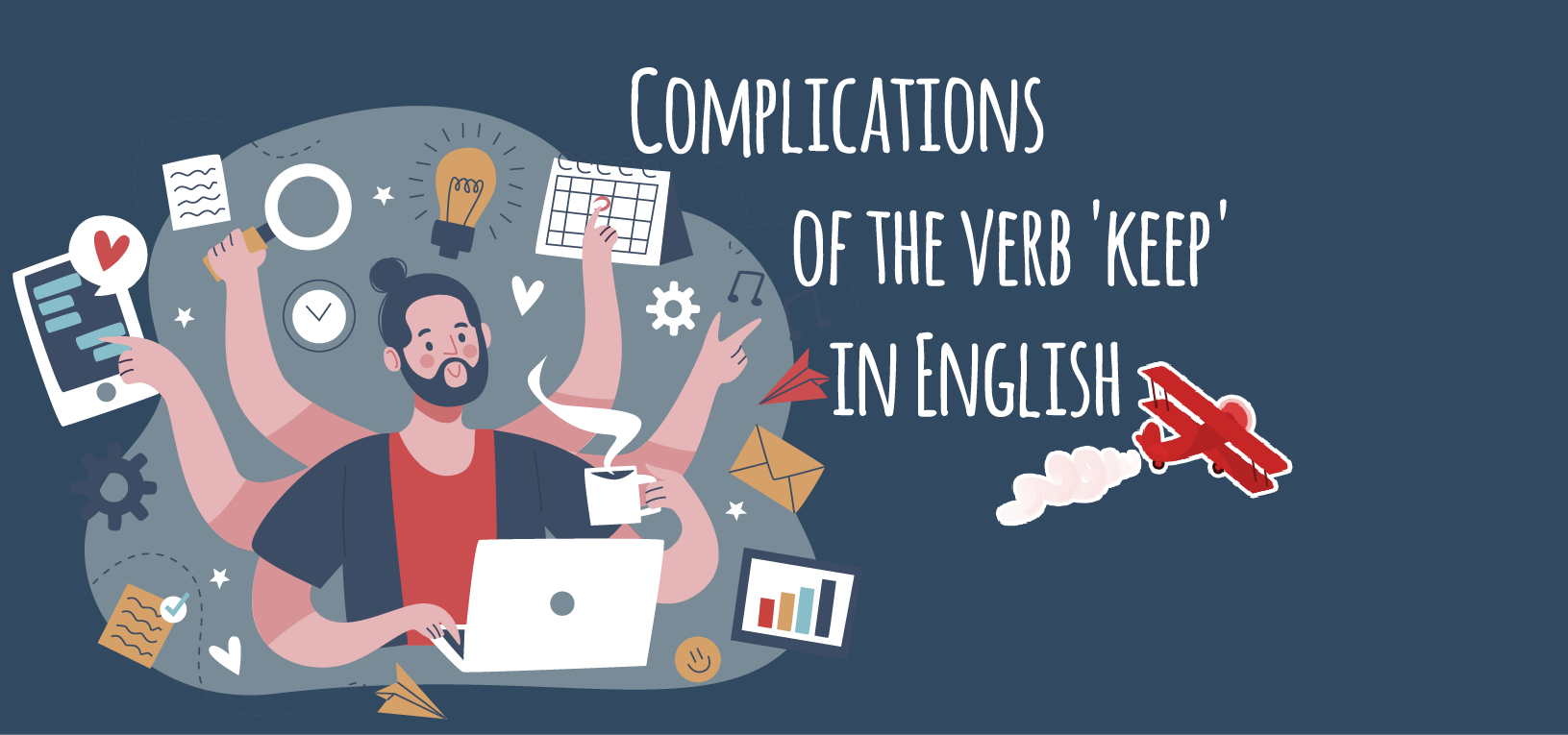 This post is also available in:

Español (Spanish)
Complications of the verb 'keep' in English
INDEX OF CONTENTS
Keep something (keep)
Save somewhere
Keep something in a certain way. Keep
Save something from or for someone
To prevent someone from doing something. Prevent.
Stay back, stay away
Keep up with something
Save for yourself
Keep calm
There are 55 different ways to use the English word 'keep' and in them we include nouns, verbs with or without an object, phrasal verbs and even idioms . Surely you have heard some English friends use it frequently or even in some movies in the original language, but perhaps you are not very clear how to use it. We are going to help you!
Today we look at the different forms of the verb "keep" most used by native speakers and we explain how you can also use them without the risk of making mistakes.
Keep -mantener (something): (maintain)
When you use "keep" in this way, you indicate that you, or someone, will hold something, either forever or for a period of time.
(paga al taxista y dile) → ¡ Puedes quedarte con el cambio! / (Pay the taxi driver and tell him) ¡ You can keep the change!
(dale a tu amigo una camiseta tuya) →  Puedes quedártela durante las próximas dos semanas si quieres llevártela de vacaciones, no la necesitaré. /(give your friend a shirt of yours) You can keep it for the next two weeks if you want to take it on vacation, I won't need it
(un amigo tuyo cuenta un secreto)  → ¡Te prometo que guardaré tu secreto! (a friend of yours tells a secret) I promise I will keep your secret!
Keep–guardar- (something in a place)
When you want to describe where you keep a specific thing.
Guardo las tazas en el armario encima del fregadero y los utensilios en el cajón junto al fregadero. / (I keep the cups in the cupboard above the sink and the utensils in the drawer next to the sink).
Puede guardar su ropa en este armario mientras se queda con nosotros./ (You can keep your clothes in this closet while you stay with us).
Keep -mantener- (something in a certain place) =  "conserve"
It describes the continuation of a certain physical, psychological or emotional state.
Muchos padres les dan a sus hijos sus teléfonos o ipads para mantenerlos callados cuando están en lugares públicos. (Many parents give their children their phones or ipads to keep them quiet when they are in public places).
Para mantener el fuego encendido es necesario agregar un poco más de madera seca que prenderá la llama. (To keep the fire burning it is necessary to add a little more dry wood that will ignite the flame).
To keep -para guardar- (something for someone) = 
When someone confiscates something for a specific period of time or when something is reserved for a future event.
Me quedaré con los teléfonos de todos hasta que terminemos con la cena porque todos me están volviendo loco. (I'll keep everyone's phones until we finish dinner because everyone is driving me crazy).
To keep -para evitar que- (someone from doing something). prevent
In this specific case it is used to describe a situation that prevents a person from doing something.
Mantuvo a su hijo cerca para que no se cayera accidentalmente a la piscina. / He kept his son close so he didn't accidentally fall into the pool.
Keep -mantenerse atrás- ='away'
When you want to tell someone to stay away from something. It is generally used to prevent dangerous situations.
A los monos del zoológico les gusta estar cerca del borde de la jaula, por lo que es importante que los niños pequeños se mantengan alejados. / Zoo monkeys like to be near the edge of the cage, so it is important for young children to keep away.
Keep -mantener al día- (up with something) =   
It refers to the act of keeping up with commitments, continuing with work or physical activity.
¡Realmente estoy tratando de mantenerme al día con mi nueva rutina de ejercicios, pero ya estoy luchando! / (I'm really trying to keep up with my new exercise routine, but I'm already struggling!)
Es difícil mantenerse al día con todos los eventos actuales que suceden todos los días, siempre me pierdo algo. / It's hard to keep up with all the current events that happen every day, I always miss something).
Keep for oneself
This is an idiom that describes the character of a very introverted or reserved person.
Cuando estoy de mal humor me gusta mantenerme en secreto y que nadie me moleste, aunque sea solo por unas horas. / (When I'm in a bad mood I like to keep a secret and not be bothered by anyone, even if it's just for a few hours).
Keep -mantén la calma- (calm)
It is one of the most loved and well-known phrases in the English language. It is used in situations of panic or maximum nervousness, an alternative can be 'Take it easy' or 'Just relax'.
Si estás viajando por un lugar nuevo y te pierdes, lo primero que tienes que hacer Es mantener la calma para que pueda pensar con claridad y encontrar a alguien que pueda ayudarlo. / (If you are traveling to a new place and you get lost, the first thing you have to do is keep calm so that you can think clearly and find someone who can help you).