10 reasons to learn English in Dublin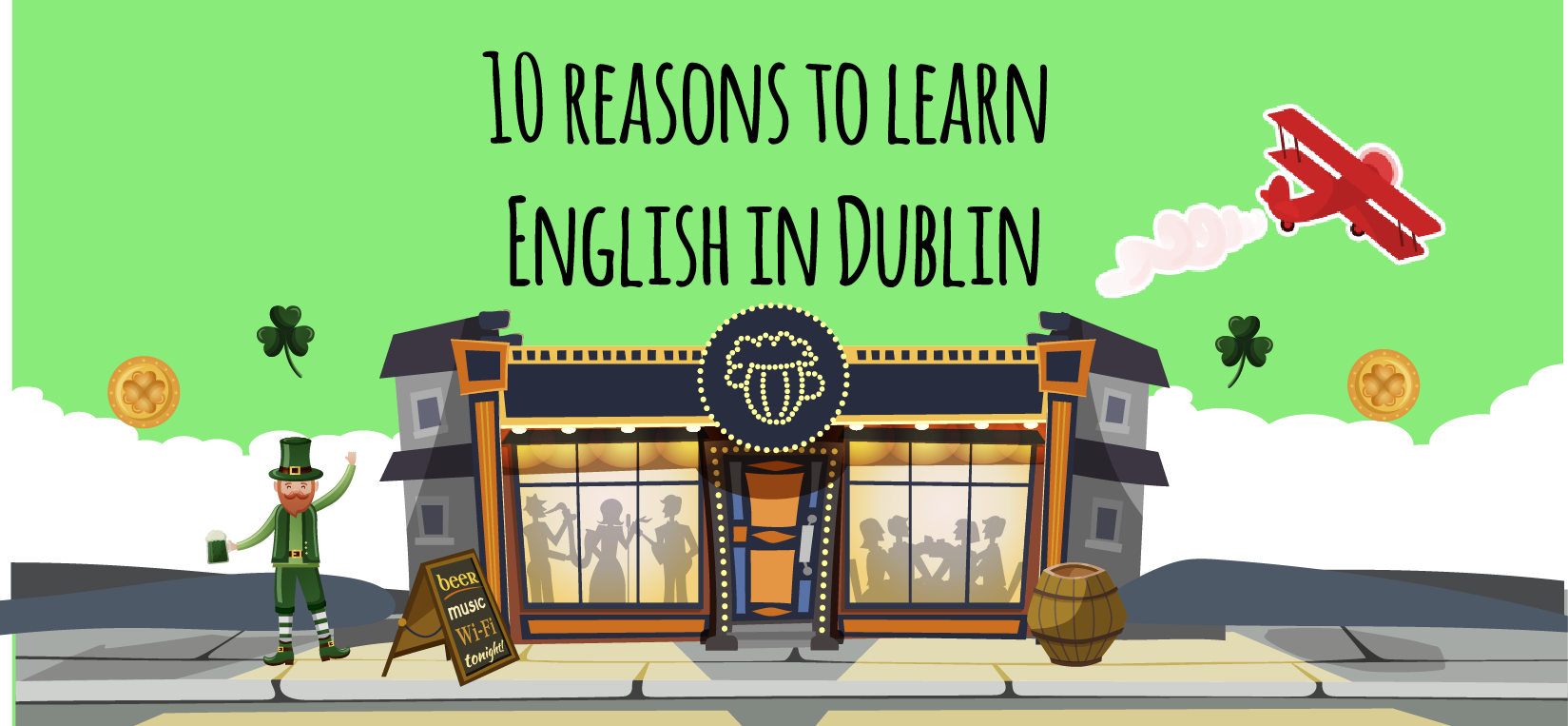 This post is also available in:

Español (Spanish)
10 reasons to learn English in Dublin
Dublin leaves its mark on the person who has been there is a universally known truth. Dublin does not stand out for its great monuments or impressive things to do, but it does stand out for its people, its customs and its way of life. Therefore, we tell you these 10 reasons not to hesitate in going to learn English in Dublin.
Capital with coast
Just because you can't bathe on the Dublin coast, most months, does not mean that their presence is not appreciated. Above all, for people used to living in coastal areas, this is something that is very appreciated in those stressful days that may arise. Simply take the Dart (the Dublin train), and take a short tour of the wonderful coastal towns, such as Howth and its fantastic sea lions or Dun Laoghaire to eat some oysters or see the great tower that the musical artist Enya has at home , they calm any type of stress. Just look at the sea … and breathe.
Small capital
There are people who love big cities, but in the case of Dublin, its great little charm is that in just a few weeks you already get hold of its cobbled streets, which is to be appreciated when you arrive at a place where you do not know anything and you may ask yourself: what am I doing here? Well rejoice, in a few days you will get to know Dublin like the back of your hand and in no time you will be meeting new friends on the street!
Euro coin
The type of currency when traveling to another country is sometimes an important issue for several reasons such as: that exchange rates fluctuate constantly and that once we arrive, we have to start thinking about another in addition to English currency different from ours. Dublin in this case, use euros , and it is not as expensive as they paint it, much less when you fall in love with Dublin and decide to stay a few more months working!
Unmistakable accent
As many people know, the Irish accent is clearly distinguishable from the others, being a little more understandable than the Scottish and of course much sexier than any other … on your return to Spain and also during your stay in Dublin, you will pick up the Irish accent , and you will be "so cute" speaking English.
Dubliner personality
When you travel to a foreign country, everything adds up when it comes to making you feel good, and in this, the Irish are specialists. They have a way of being very warm, quite humorous and without a doubt very hospitable, with which all this will help you not feel so "homesick" .
Friends in Dublin = family forever
When two people are alone in a foreign country, bonds are created that time will never break , they become your family. Dublin and its dubliners will forever be another family to count on and with whom your memories will survive forever, making an unforgettable experience.
Pub culture
Currently, these are difficult times for bars and pubs and although we all know that drinking in Dublin is more expensive than Spain, they are the best places to learn English, as there are always full bars, any day of the week and at any time. Also, knowing so many people and being all a pineapple, there are always birthdays to celebrate, leaving parties to schedule, Christmases to do "the 12 pubs" (21 pubs, 12 pints in each), or any excuse in Dublin is always good "To go for a pint".
Celtic culture. Symbologies, clovers, leprechauns, harp, music, etc.

The historic heart of Ireland has much more than cozy heritage towns and serene, crystal-clear lakes. This is where saints converted kings to Christianity at the Rock of Cashel, where Kilkenny Castle changed hands for the price of a song. The stories continue on the Celtic Coast, where the Vikings looted the sacred treasures of the monastic city of Glendalough and the light from the oldest lighthouse in Europe illuminates Ireland's maritime history and its thousands of tales. All this forms an attractive story that you will always want to know more and more about.
Cultural diversity: opportunities
Dublin is already listed as one of the most cosmopolitan cities today. This, close to being the least attractive for restless minds that want to learn English there, is one more plus , because you will meet people from parts of the world that you have never heard before or they will simply give you the opportunity to learn other languages close to Spanish, such as Italian or Portuguese, learning a lot about different cultures.
Monuments, places to visit
A ride along the River Liffey, Phoenix Park by bike with its zoo, any pub in Temple Bar, Molly Malone on Grafton Street, its seaside towns, Cliffs of Moher, Kerry and its lakes, the Causeway of the Giants, Belfast, Galway And a long etc…
For these reasons and others that everyone discovers during their stay in Dublin. Also, do you want to obtain a degree with which to validate your level of English? Here we leave you the next available calls.