20 libros de lectura en inglés (nivel C2)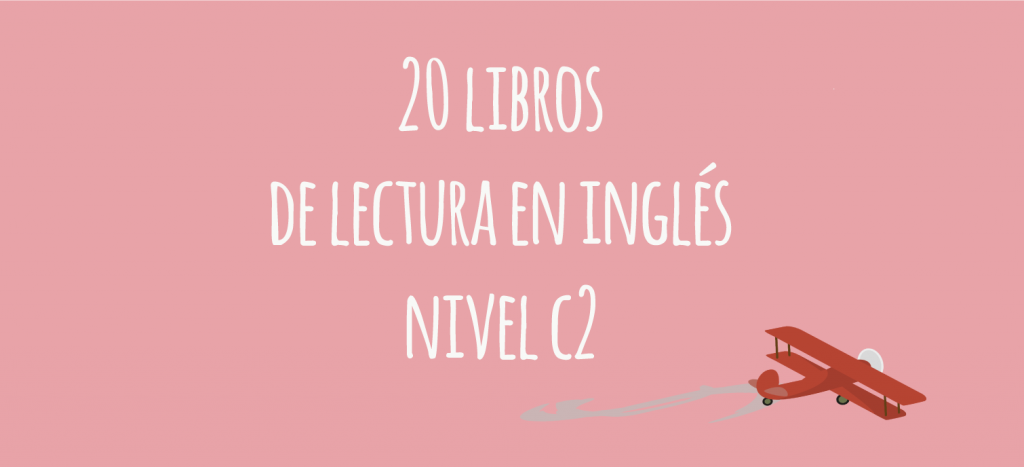 Buenas a todos,
Ya estamos a jueves, y venimos por aquí para traeros un nuevo post con un listado de 20 libros, tal y como hicimos con los otros niveles. Esta vez, os recomendamos 20 lecturas en inglés para los niveles C2 ¡casi ná! El verano ha llegado y es cuando más apetece leer pues disponemos de más tiempo libre, y nunca está de más, reforzar nuestro nivel de idioma con una buena lectura.
Así que, pasamos a contaros cuales han sido los 20 títulos que hemos escogido para aquellos que tengáis el nivel más alto de inglés, el C2.

1. A window on the universe: What does the future hold in store for the human race? Aliens from distant galaxies, telepathic horror, interstellar war, time-warps, the shriek of a rose, collision with an asteroid – the unknown lies around every corner, and the universe is a big place. These nine science-fiction stories offer possibilities that are fantastic, humorous, alarming, but always thought-provoking.
2. And all for love… : What sad, appalling, and surprising things people do in the name of love and for the sake of love. These short stories give us love won and love lost, love revenged, love thrown away, love in triumph, love in despair. It might be love between men and women, children and parents, even humans and cats; but whichever it is, love is a force to be reckoned with.
3. Snow falling on cedars: San Piedro Island, north of Puget Sound, is a place so isolated that no one who lives there can afford to make enemies.  But in 1954 a local fisherman is found suspiciously drowned, and a Japanese American named Kabuo Miyamoto is charged with his murder.  In the course of the ensuing trial, it becomes clear that what is at stake is more than a man's guilt. For on San Pedro, memory grows as thickly as cedar trees and the fields of ripe strawberries–memories of a charmed love affair between a white boy and the Japanese girl who grew up to become Kabuo's wife; memories of land desired, paid for, and lost. Above all, San Piedro is haunted by the memory of what happened to its Japanese residents during World War II, when an entire community was sent into exile while its neighbors watched.
4. East of Eden: Set in the rich farmland of California's Salinas Valley, this sprawling and often brutal novel follows the intertwined destinies of two families—the Trasks and the Hamiltons—whose generations helplessly reenact the fall of Adam and Eve and the poisonous rivalry of Cain and Abel.
5. Crime and Punishment: Raskolnikoff, a young student, has been forced to give up his university studies because of lack of money. He withdraws from society and, poor and lonely, he develops a plan to murder a greedy old moneylender. Surely the murder of one worthless old woman would be excused, even approved of, if it made possible a thousand good deeds? But this crime is just the beginning of the story…

6. North and South: Life changes completely for Margaret Hale and her parents when they move to a smoky northern city. There, Margaret meets Mr Thornton, a wealthy cotton mill owner, and dislikes him immediately. But the mill owner falls passionately in love with her. Then his workers strike. Against a background of industrial drama and personal tragedy, is there any hope for Mr Thornton's dream?
7. The Moonstone: The Moonstone is an ancient Indian diamond which brings disaster to everyone who owns it. Rachel Verinder's uncle gives her the diamond as a birthday present, but that same night it is stolen… The Moonstone is now seen as the first, and one of the best, English detective novels.
8. Madame Bovary: Emma Bovary is a dreamer. She escapes from her boring life with her father by marrying Charles, a doctor, but married life does not bring her the love and excitement she expected. She looks for love outside her marriage, and one of literature's great tragedies begins to unfold.
9. Les Miserables: Jean Valjean is free at last after nineteen years in prison. Cold and hungry, he is rejected by everyone he meets. But Jean's life is changed forever when he discovers love. He spends the rest of his life helping people, like himself, who have been victims of poverty and social injustice – 'les misérables'.
10. Memoirs of a Geisha: We follow Sayuri's life: her early years in a small fishing village and as a geisha in Gion. And throughout her struggle, we know of her secret love for the only man who ever showed her any kindness — a man who seems to be out of her reach.

11. Schindler's List: Thomas Keneally's famous novel tells the true story of Oskar Schindler, a businessman who risked his life every day during the Second World War to save as many Jews as possible. Steven Spielberg's film of Schindler's List won seven Oscars, including Best Picture and Best Director.
12. The Beach: 'Close your eyes … imagine idyllic white sands and coral gardens.'
Richard arrives in Thailand. He hears about 'the beach', a secret island. It is paradise on earth. He goes there, but paradise soon turns into hell…
13. Brave New World: Aldous Huxley's Brave New World is one of the great works of science fiction.
It is the year After Ford 632 in the New World. People are born and live by scientific methods. There is worldwide happiness and order. Then John comes from the Savage Reservation to the New World and with him he brings strong emotions – love, hate, anger, fear. Suddenly, danger threatens the New World.
14. Misery: Paul Sheldon is Annie Wilkes's favourite writer. She loves all his books about Misery Chastain. When Annie finds Paul after a car accident, she takes him home to look after him. The Annie discovers that Paul wants to kill Misery and to write different kinds of book. She is determined to stop him, and Paul becomes her prisoner.
15. The Chamber: The horror of death row is that you die a little each day. The waiting kills you.
Seventy-year-old Sam Cayhall is on Mississippi's death row. Sam hates lawyers but his date with the gas chamber is close, and time is running out. Then Adam Hall, a young lawyer arrives. Can he and his secret persuade Sam to accept his help?
16. The woman in white: Only the Woman in White knows the truth of Laura Fairlie's cruel husband. Can Walter Hartwright discover the terrible secret? From the moment Walter meets this mysterious woman, his future and that of Laura are linked forever.
17. Food Stories: This 'tasty' collection brings together five stories and extracts all with food at their heart. Food and literature have a long relationship and food is used to shed light on characters and relationships, from meals as the centre of family life to food as a political symbol.
18. Northanger Abbey: Visiting the fashionable city of Bath, 17-year-old Catherine Morland looks for the excitement she finds in romantic fiction. She makes friends and falls in love. But when she is invited to Northanger Abbey, she experiences desperate unhappiness. What is real, and what is the product of her wild imagination?
19. The double helix: James D. Watson and Francis Crick won the Nobel Prize in 1962 for the discovery of the double helix, the structure of DNA. In this book, James D. Watson tells the exciting story of this discovery.
20. Captain Corelli's Mandolin:  This is a great love story set in the tragedy of war. It is 1941. The Italian officer, Captain Corelli, falls in love with Pelagia, a young Greek girl. But Pelegia's fiancé is fighting the Italian army…
Para finalizar, os queremos recordar las pautas que os hemos ido dando durante todas estas entregas literarias:
1. Escoger correctamente un libro que sea de nuestro nivel.
2. Disponer de un lápiz, libreta y diccionario a mano.
3. Anotar toda palabra que desconozcamos para buscarla en el diccionario.
4. Realizar una segunda lectura en voz alta grabándonos.
5. Al finalizar, escuchar el audio para reconocer aquellos errores de speaking que cometemos.
Pues hoy damos por finalizada la entrega de 20 lecturas en inglés adaptadas a los diferentes niveles, tenéis material de sobra con el cual disfrutar y trabajar. Si queréis, aquí abajo os dejamos los enlaces directos a los otros post por si queréis cotillearlos.
– 20 lecturas en inglés para el nivel B1
– 20 lecturas en inglés para el nivel B2
– 20 lecturas en inglés para el nivel C1
¡Qué paséis muy buen fin de semana y nos leemos el lunes!